We, at FlightsPro love a good challenge!
So, we thought it might be a fun challenge to plan Orlando Holiday on a budget. Planning to visit Orlando under £999? Seems impossible?
But we say otherwise! With little ingenuity and careful planning, it's possible to have an unforgettable trip without going overboard. Here are some innovative suggestions to maximize your spending power:
Off-Peak Travel: Plan your Orlando holiday for the off-peak season, when lodging costs and admission rates are typically lower. You can save a lot of money by avoiding key vacations and school breaks. Set up £200 for each person's round-trip airfare from London to Orlando, assuming you can get a reasonable offer.
Alternative Accommodations: We always suggest our travellers look for accommodation possibilities outside of the conventional hotel chain. If you're traveling in a group, think about staying in a cheap hostel, motel, or vacation home. FlightsPro Orlando holiday experts can provide a plethora of good inexpensive and distinctive accommodation options. For a weeklong trip (7 nights), budget about £20–£40 per night for lodging, or a total of £200.
Cheap Flight Tips: Look for the cheapest flight deals to start your trip on a tight budget. Use Take into account travelling during the week or choose an indirect flight, which is frequently less expensive. Always book with a travel agent like us, who has a plethora of cheap flights to Orlando.
Book All-Inclusive Orlando Holiday Packages: Always consider booking all-inclusive Orlando holiday packages to save money on both transportation and attractions. Look for packages that combine airfare, lodging, and theme park admission because they frequently provide significant savings over purchasing each item separately.
Theme Park Discounts: Before visiting the theme parks, do your homework to identify tickets that are on sale or that have other special discounts. Deals for well-known attractions like Walt Disney World, Universal Studios, and SeaWorld are widely available. You just need a good travel agent to be by your side. Let us do the legwork for you!
Free and Affordable Attractions: Orlando has many low-cost or free attractions that can be a great experience. Discover stunning lakes, hiking trails, and beautiful gardens. Check out the free events, concerts, and street performances in the downtown districts as well.
Budget-Friendly Dining: While sampling the local food is an important component of the trip, make smart meal plans to avoid expensive eateries located inside amusement parks. Choose neighbourhood restaurants, and food trucks, or bring a picnic for a budget-friendly and enjoyable dining experience. Plan on spending between £25 to £30 a day on food, including breakfast, lunch, and dinner. Budget between £175 and £210 for a weeklong stay.
Passes for Reduced Access to Multiple Attractions: Look into CityPASS or Explorer Pass alternatives, which frequently offer Reduced Access to Multiple Attractions within a Specific Timeframe. These tickets can save you money on admission costs and give you a planned schedule for your trip.
Use Public Transportation – Consider using the available public transportation throughout your visit to save money. This should cost no more than £20–£30 a week. By doing this, you will be able to save money on car rental and parking fees. Or, always book car rental services in Orlando when you book your Orlando holiday. This will also save you a ton of money and hassle.
DIY-Themed Tours: To make the best of your Orlando holiday, design your own themed tours. For instance, create a self-guided movie-themed tour at Universal Studios or plan a Disney character scavenger hunt around the parks.
Local Experiences: Attend community events, art exhibits, and live performances to fully immerse yourself in Orlando's distinctive culture. These pursuits provide a window into the way of life of the locals and are frequently less expensive than popular tourist attractions.
Programs for Volunteers: This one's for our student groups travelling to Orlando! A couple of Orlando's attractions include volunteer opportunities that let you give a few hours of your time in exchange for free entry. It's a creative approach to support the neighbourhood while having a cheap time in the city.
Keep a budget for souvenirs: Set aside $30 to $50 for mementos and keepsakes for mementos or get crafty with your keepsakes to save money. To remember your Orlando holiday, take pictures, gather postcards, or choose cheap yet thoughtful souvenirs from nearby shops
And, for a more clear understanding, we just added up the numbers.
Orlando Holiday Budget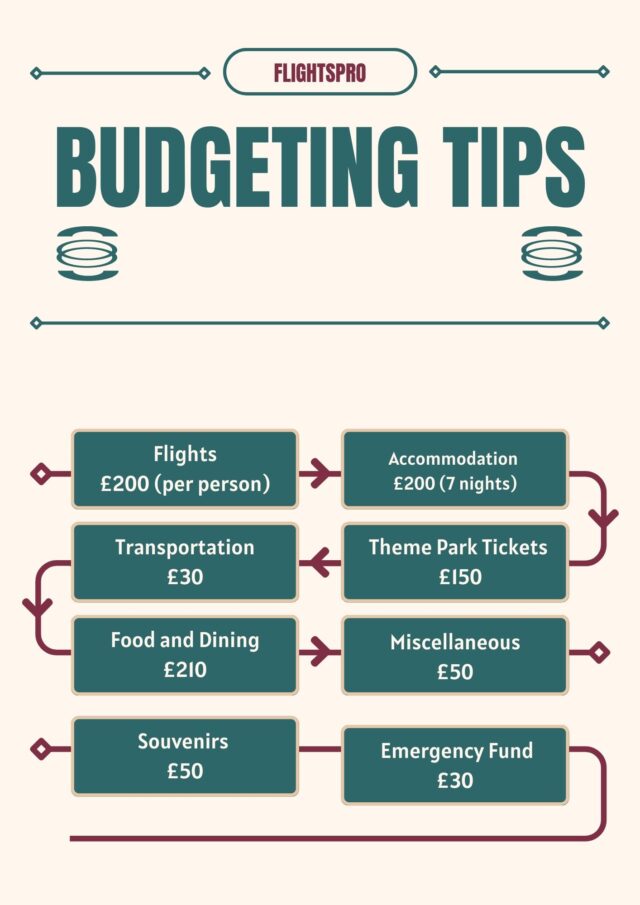 But remember that rates can change, so it's crucial to always check with your travel agent and most importantly, book far in advance to receive the greatest Orlando Holiday deals. Your ability to be flexible with your travel dates and your willingness to make some concessions will help you enjoy your trip to Orlando while staying under your £999 spending limit.
According to the budget plan, a one-week vacation in Orlando from London is predicted to cost roughly £920, which is even lesser than the £999 budget cap. Don't believe us? Call us. We will make it happen!
Conclusion
You can definitely do Orlando holiday under £999 with these innovative ideas and a little resourcefulness without sacrificing enjoyment or memories.
Just plan ahead, list your must-see sights in order of importance, and make the most of each day you have in this enchanted place. Travel safely!
For more travel inspirations and daily travel & flight updates, follow us on Facebook or Instagram
Contact us at 0208 396 7200
Email us – book@flightspro.co.uk