You've come to the right place if you've ever wondered what the best time to book flights for school holidays is or if you've ever been disappointed to see airfares soar shortly before your intended getaway.
The skill of getting cheap flights without sacrificing the travel experience will be revealed in this in-depth article as we explore the hidden gems of travel planning.
Timing is key whether you want to take the family on an exciting summer journey during school holidays, escape to a winter paradise, or travel the world over spring break.
We realize how difficult it can be to strike a balance between convenience and price, which is why we're here to arm you with the information you need to make wise choices.
We'll examine the variables that affect flight costs during school holidays, dispel popular misconceptions, and divulge the little-known advice that airlines don't want you to know.
Our goal is to enable you to take advantage of the best chances and stretch your travel pounds as far as possible while making sure that your school holidays dreams come true.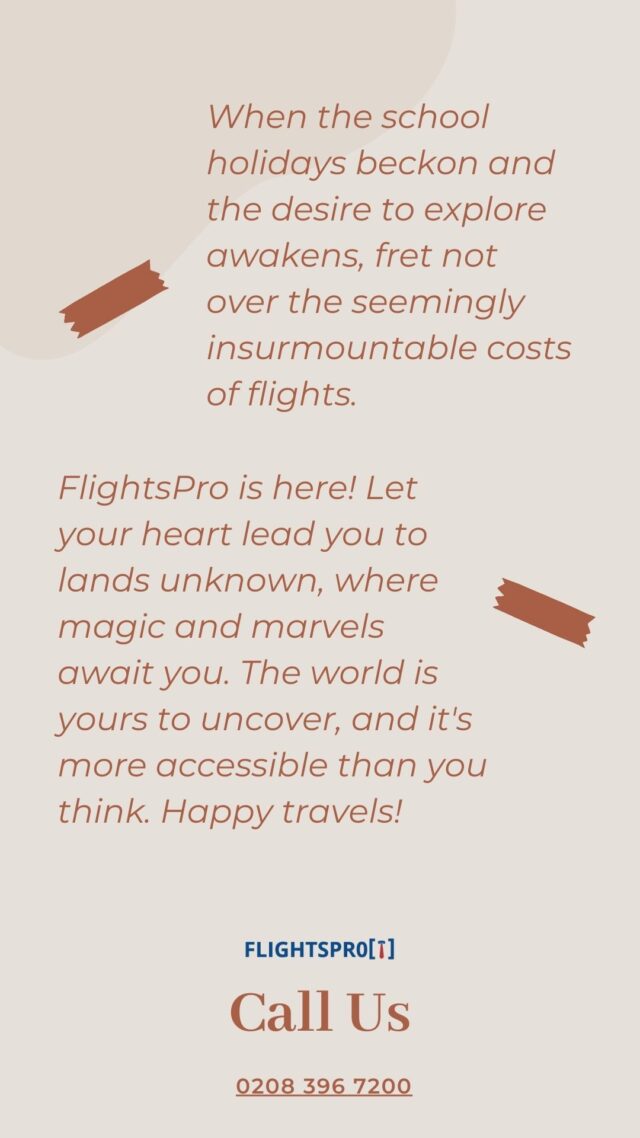 When are the school holidays in the UK?
In the UK, the corresponding educational authorities in England, Scotland, Wales, and Northern Ireland decide on the dates of the school holidays. Depending on the region and the particular school, these holidays may differ slightly.
In the UK, the academic year is often divided into three terms:
Early September to mid- to late-December is the typical start and end dates for the autumn term. In October, there is a one- or two-week half-term break.
Early January to the end of late March or early April is the spring term. Along with that, it has a one- or two-week half-term vacation that often occurs in February.
Summer Term: Begins in the middle to end of April and usually lasts until the end of July. A one- or two-week half-term break is included in this term; it often occurs in late May or early June.
Primary School Holidays in the UK
Christmas Holidays: Usually lasting two to three weeks, they begin in the middle of December and terminate in the first few days of January.
Easter Break: Usually lasting two weeks, it begins in late March or early April.
Summer Holiday: The longest break is the summer holiday, which typically lasts six weeks and starts in late July or early August and ends in early September.
Please be aware that these times are merely estimates and may change, depending on the particular school and educational authority. It's critical to confirm the precise dates of local school holidays with your child's school or the local education authority.
Now comes the part!
The Best Time to Book Flights for School Holidays.
Due to the fact that costs are sometimes higher during the busiest travel times, booking flights for school holidays from the UK might be a little challenging. However, there are a few general pointers that can assist you in finding the finest bargains:
Book Early: It's typically advised to book your flights as far in advance as you can for school breaks. Airlines frequently publish their itineraries 11 months in advance, and the earlier you book, the cheaper it usually is.
Be Flexible with Dates: If your travel dates are somewhat open, think about booking a flight a day or two before or after the busiest holiday times. Flying on less-traveled days occasionally results in lower airfares.
Use a Travel Agent: To find the best cheap flights for school holidays, use a skilled travel agent that have access to the best flight prices round the year.
Create Fare Alerts: Let our school holidays travel agents know if you have specific trip dates in mind. You will be informed in this way if the cost of your preferred route decreases or increases.
Choose an alternate airport: Take into account the flights from the nearby airports as well. You can occasionally save money by flying out of a smaller airport or a nearby city.
Be flexible: Try to avoid flying on the busiest travel days, such as the weekends just before or after the start of the school year. Flights throughout the middle of the week might cost less.
Prefer Indirect Flights: Direct flights are frequently more convenient, but they might also be more expensive. Take into consideration connecting flights. You might be able to locate more economical options if you're prepared to take a connecting trip.
Join Frequent Flyer Programs or Airline Loyalty Programs: Enroll in one of these programs. Earning points and miles can result in future savings or even free flights.
Clear Browser Cookies: Some websites track your search history using cookies, and if they notice significant demand, they may raise rates. Use incognito mode or clear your browser's cookies when looking for flights.
Take into account package deals: Sometimes, booking a flight and accommodations as a single unit might result in savings. Seek out our all inclusive group school holidays package offers.
To get the best pricing for your school holidays from the UK, start your research and booking well in advance. Keep in mind that costs can vary depending on the exact destination and time of year.
Conclusion
Come along for the ride as we explore the data, examine booking patterns, and unleash the power of foresight to identify the best times to press the "confirm" button.
With tried-and-true techniques to significantly reduce airfare, we have you covered whether you're making advance plans or looking for those last-minute bargains.
So get ready to learn the art of airline booking for school holidays, fellow travelers, and fasten your seatbelts!
For more travel inspirations and daily travel & flight updates, follow us on Facebook or Instagram
Contact us at 0208 396 7200
Email us – book@flightspro.co.uk