Book Bodrum all inclusive holidays because Bodrum is the top trending destination in 2021 for its bespoke luxury and relaxed vibe. 
Turkey is the new hotspot for travel and Bodrum is your ultimate destination. Perfect for an affordable luxury holiday, Bodrum is definitely the top destination to travel to in 2023-24.
Escape to Bodrum and experience the amazing beauty of the Aegean Sea's turquoise waves meeting magnificent sun-kissed beaches. Look no further than Bodrum All-Inclusive Holidays if you're looking for the ideal balance of luxury, relaxation, and adventure.
Enjoy a stress-free getaway where everything is taken care of, from luxurious lodging to mouthwatering eating selections. Discover a world of unrivalled luxury and comfort, and allow us to demonstrate why booking Bodrum All-Inclusive Holidays is the best option for an unforgettable getaway.
Book Bodrum All Inclusive Holidays
FlightsPro, as the name suggests, is a pro when it comes to booking flights and holidays. Our travel experts have carefully designed Bodrum all inclusive holidays that cover all major travel essentials like flights, transfers, online check-in, accommodation, 3 meals and sightseeing tours. Book Bodrum all inclusive holidays here. 
Here is why!
Unlimited Bodrum All inclusive holidays Delights – At Bodrum, unlimited pleasure is the definition of all-inclusive. Everything you want is included in our expertly

 

designed packages, from delectable meals at top-notch restaurants to cool drinks by the pool. Refresh your senses with all inclusivespa services, exhilarating water activities, and engaging excursions. The options are boundless and the experiences are permanently etched with Bodrum All inclusive Holidays.
Luxurious Accommodations – Bodrum's finest lodgings offer the height of elegance. Our Bodrum all inclusive holidays include hotel stays at upscale resorts and boutique properties where comfort and elegance are combined. Enjoy the breathtaking vistas as you awaken, relax with opulent facilities, and take in the gracious Turkish hospitality. Bodrum All inclusive Holidays promise a journey beyond the ordinary vacation.
Explore Bodrum's Best-Kept Secrets – Bodrum All inclusive Holidays gives you the chance to discover the area's hidden gems. Immerse yourself in the city's rich history and culture, from the ages-old Mausoleum at Halicarnassus to the contemporary Bodrum Castle. As part of your package, you can set off on a boat tour to isolated bays, swim in pristine seas, and take in the beauty of Bodrum's sunsets.
Stress-Free Travel Planning – Let us take care of all the details so you don't have to worry about them. When you book Bodrum All inclusive Holidays with us, you can anticipate a smooth journey from beginning to end. Your itinerary will be tailored by one of our knowledgeable travel experts to properly suit your tastes and interests. Just unwind and leave the details to us.
Unbeatable Value – Bodrum All inclusive Holidays provide unmatched value for your money. Since the package includes coverage for all necessary costs, you can be sure that your spending will be controlled while still having a great vacation. There are no surprises or unforeseen costs—just pure joy and relaxation.
Bodrum All inclusive Holidays will transport you to a world of tranquilly and luxury. Your trip is guaranteed to be nothing short of amazing, with unmatched all inclusiveexperiences, opulent lodgings, and the chance to explore Bodrum's hidden gems.
Allow us to transport you to this Aegean paradise, where all of your dreams come true. Book your Bodrum All inclusive Holidays with us right away to start planning an enchanting and rejuvenating trip.
Need some advice on how you can just not cover Bodrum but other Turkey destinations like Dalaman, Antalya, Istanbul also? You can ask our best travel advisors for customised Bodrum All Inclusive Holidays with FlightsPro.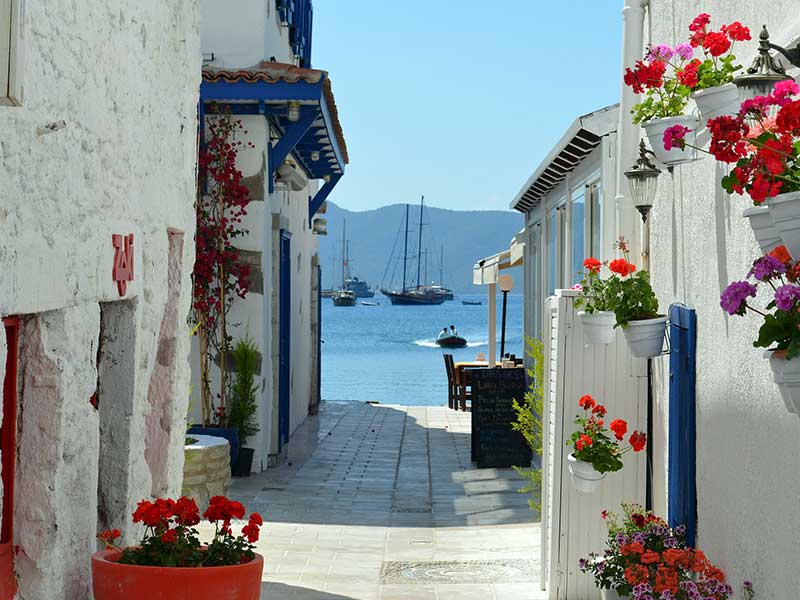 Things to do in Bodrum
Now that you are looking at booking Bodrum all inclusive holiday 2019, let us check out some top things to do there:

Just Relax


Bodrum hosts one of the best spas in the world that is Six Senses Spa Kaplankaya. Indulge in some soothing massages and signature treatments including a salt grotto, crystal steam room, experiential rains, Finnish sauna, hydrotherapy pool, heated loungers, foot therapy basins, and much more. This will be one of the best spa breaks that you have ever had. 

Explore the ancient tomb


Discover The tomb of King Mausolus that is designated as the seven wonders of the ancient world.

Watch a show at the 4th-century amphitheatre


Sitting on a hillside above Bodrum's city centre is Bodrum Antique Theatre. If you are visiting Bodrum during summer, you can watch a show here and feel how grand it would have been in those days that it could seat 13,000 people. 

Shop like a local


Hope you guys have been following us on Facebook because we have shared some Turkish travel phrases for your references. They might come handy when you go and explore the colourful bazaars of Bodrum next to Intercity Bus Terminal

Not to Miss


You cannot afford to miss St Peter's Castle for some of the most stunning views and Museum of Underwater Archeology for some unique attractions.
Top 5 star hotels in Bodrum
When it comes to holidaying in style, Bodrum has plenty of options. Celebrities' favourite vacation spot is home to some of the top 5 star hotels and beach resorts like Macakizi, Casa Dell'Arte, Doria Hotel among the many. Depending on your budget and location, you can browse through the best places to stay in Bodrum or contact our travel experts for advice. We will help you choose the best all inclusive Bodrum holiday deal for you. 
Flights to Bodrum
Jet2 flights fly directly to Bodrum and it takes an average time of 4 hours from anywhere in the UK. At FlightsPro, we not only book cheap Bodrum flights but also provide absolutely free online check-in worth £90 per passenger. Isn't that a great flight deal? Have more questions? Talk to one of our travel advisors today. 
How to book Bodrum All Inclusive Holidays
So all you need to do is just give us a ring on 0208 396 7200 and we can everything sorted for you over the phone. You can browse through our handpicked Bodrum all inclusive holidays here or easy, just drop your numbers there and we will give you a call back with 26 seconds. You can get a free travel/trip itinerary quote, just write to us at book@flightspro.co.uk 
For more travel inspirations and daily travel & flight updates, follow us here.
TRAVEL ALL OVER THE WORLD
Great Tours
Be it you travelling with family, your partner or solo, nothing could be more satisfying than someone talking to you in person about planning your unique tour. We will help you select the best itinerary by each destination, including their cost and length. Browse through our handpicked tour packages from all over the world

Area:

650 km²

Elevation:

85 m

Population:

35,795 (2012)