About Bosphorus
No trip to Istanbul is complete without taking a Bosphorus tour.  On classic Bosphorus all inclusive holidays and travel between two continents – Asia and Europe.
This boat cruise takes you through Topkapi Palace, Europe, Hagia Sophia, Maiden's Tower, Ottoman summer palaces, waterside mansions and modern villas that line the European and Asian coasts. Do not miss the view of Istanbul in the night from the waters. This is one of the most magical things to do in Istanbul. A day exploring the Bosphorus Strait on a boat and admire travelling back in time.
Things to do near Bosphorus
The best way to explore Bosphorus is by boat. Take the classic boat cruise that offers a sightseeing experience and an incredible start through the waters that separate Asia and Europe.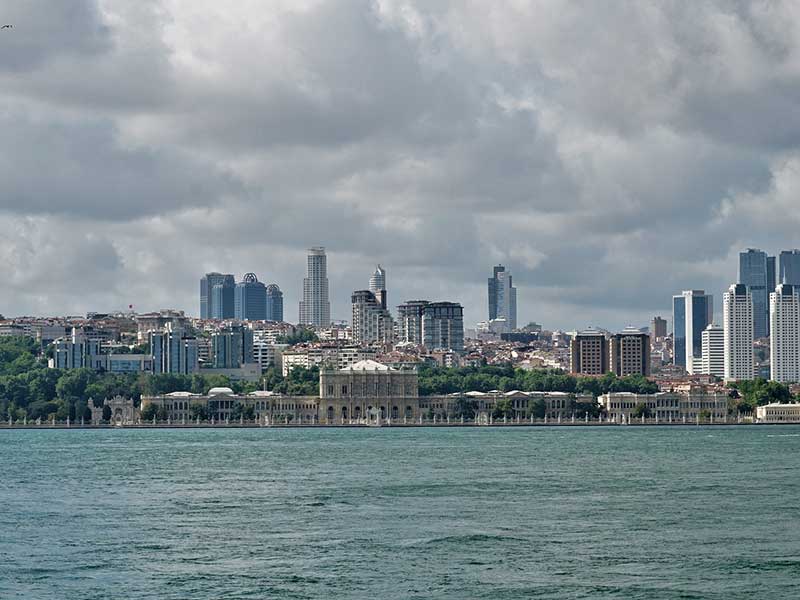 Top Hotels near Bosphorus
Experience unmatched luxury stay at our handpicks top hotels to stay near Bosphorus. When you book any all inclusive holidays to Bosphorus, it includes your stay at one of the top hotels near Bosphorus, your meals, activities and access to facilities and amenities in the hotel too. and,, all thus under the cheapest prices ever available. This is the benefit when you book with the best travel agent in London.
Flights to Bosphorus
If you are looking for a direct flight to Istanbul then, we recommend British Airways flights, Turkish Airlines or atlas global and Pegasus.
The average flight time is 3h and 35 minutes.
Flights to Istanbul ply regularly from all major airports in London and other parts of the UK. Your best travel agent will help you find the best flights and route when you book all-inclusive Turkey holiday.
You reach Istanbul Airport and then take a cruise ride to Bosphorus. A day spent in sightseeing from the water on the Bosphorus Tour is one of the most beautiful experiences in Turkey.
Book all inclusive holidays to Bosphorus  
Travelling with your family on an all inclusive holiday to Bosphorus is the best way to travel. An all inclusive holiday means you pay for everything upfront and then no need to worry on your epic vacation. You don't spend anything extra unless you want to go on a shopping frenzy.
Book customised Bosphorus all inclusive holidays
We cater to all kinds of travellers and holidays be it a family holiday getaway, weekend getaways, solo travelling, budget travelling, romantic holiday, or group holidays. So, we understand that a rigid itinerary doesn't work. When you talk your travel advisors, they can customise the trip according to your likes and preferences, all under your budget.
We have extensive route plans and itineraries in place for the inquisitive ones. All you do is just pick and choose the places you want to visit and we will get everything done for you. Our customised Bosphorus all inclusive holidays are very popular among families, couples, students and corporates. We give additional discounts on group bookings. There is nothing like exploring the world together.
Why book Bosphorus All Inclusive Holidays with FlightsPro
When you book Bodrum all inclusive holiday, you pay for everything for your trip upfront. There are no hidden costs and no further expenses on your trip unless you want to shop. We give you a personalised travel agent that is available just a single call away right from the time you book with us till the end of your trip. On all bookings, we give a complimentary online check-in worth £90 per passenger. Give us a call today.
How to book Bosphorus All Inclusive Holidays
Browse through our handpicked Bosphorus all inclusive holidays here or get free travel quotes from our expert travel advisors. You can either call us 0208 396 7200 or just drop your numbers here and we will give you a call back within a minute. Be sure that you wont cross your budget.
TRAVEL ALL OVER THE WORLD
Great Tours
Be it you travelling with family, your partner or solo, nothing could be more satisfying than someone talking to you in person about planning your unique tour. We will help you select the best itinerary by each destination, including their cost and length. Browse through our handpicked tour packages from all over the world

Area:

Elevation:

Population:

17 million