Ah, the lovely days of honeymoon destinations planning—a momentous occasion to celebrate love and set out on a journey that ushers in a new chapter. The world of honeymoon destinations opens up a treasure trove of alluring locations and breathtaking experiences for couples from the UK as the calendar flips to 2024.
These honeymoon destinations are created to make your dreams a reality, whether you and your partner are looking for adventure, leisure, culture, or a fusion of all of it.
Always keep in mind that the location is only the setting for your love story as you prepare your romantic getaway for 2024. Your honeymoon is a tribute to the love you share and the adventures that are ahead, whether you're strolling through the cobblestone alleyways of Italy, relaxing in an overwater cottage, or taking in the Northern Lights. Pack your luggage, go out on this amazing journey, and let the allure of these places serve as the ideal backdrop for your love story.
Greece's Santorini: A Paradise for Romance and Whimsy
Santorini in Greece has long been regarded as a honeymooners' dream honeymoon destinations, and with good reason. Imagine cliffside churches with distinctive blue domed roofs, orange and pink sunsets, and glittering waters for as far as the eye can reach. Day trips can be taken to explore the quaint villages, indulge in mouthwatering Greek fare, and relax in the healing warmth of volcanic hot springs. Don't forget to take pictures of your relationship against this island's breathtaking scenery.
Kyoto, Japan: A Place of Tranquility and Tradition
Kyoto is a match made in heaven for couples looking for a peaceful, harmonious fusion of culture and tranquility in honeymoon destinations. Kyoto encourages you to immerse yourself in the splendor of Japan's old traditions with its magnificent temples, verdant gardens, and traditional tea houses. Enjoy a tea ceremony, stroll through the romantic Arashiyama Bamboo Grove, and watch as the city is painted pink by the exquisite cherry blossoms. Kyoto is a peaceful and loving living painting.
French Polynesia's Bora Bora: A Tropical Eden of Luxury
Bora Bora is the ideal getaway if one of your ideal honeymoon destinations includes overwater bungalows, turquoise lagoons, and pristine white beaches. The privacy and luxury promised by this exquisite hideaway in the midst of the South Pacific. Enjoy paddleboarding, snorkeling, and romantic beachside dining. Enjoy the soothing warmth of the sun while surrounded by the mesmerizing beauty of French Polynesia's beautiful waters and abundant marine life.
Italian's Amalfi Coast: A Symphony of Romance
Every cobblestone lane, every cliffside residence, and every sweeping view of the Tyrrhenian Sea on Italy's Amalfi Coast speak a love story. Explore the quaint alleyways of Positano, take in Ravello's artistic legacy, and indulge in genuine Italian cuisine while taking in breathtaking scenery. Together, you may explore the shore and make experiences that will last a lifetime.
A Journey Through Fire and Ice in Iceland
Iceland provides a spectacular expedition through nature's wonders for couples looking for a unique adventure. Iceland's varied landscapes, which include hot geysers, glacial lagoons, black sand beaches, and towering waterfalls, provide a fantastical backdrop for love stories. Discover the allure of a place that spans the divide between fire and ice as you soak in the geothermal waters of the Blue Lagoon, hunt for the rare Northern Lights, and more.
South African Safari: Love in the Wilderness
A safari in South Africa is one of the honeymoon destinations unlike any other if your heart beats to the rhythm of untamed landscapes and wild encounters. As you travel through savannahs and deserts and see the famous Big Five, share private moments beneath the great African sky. In a place where the call of the wild is a symphony of love, reacquaint yourself with nature, one another, and your sense of wonder.
A Serenade of Luxury and Isolation: The Maldives
The temptation of the Maldives as one of the best honeymoon destinations is to picture yourself on a private island surrounded by the clear waters of the Indian Ocean. This group of atolls provides a honeymoon sanctuary with a focus on romance and relaxation. The Maldives calls with its immaculate beaches, bright coral reefs, and stunning overwater villas that allow you to delve into the ocean right from your doorstep, offering everything from underwater dining experiences to restorative spa treatments.
New Zealand's Queenstown: Anxiety and Intimacy
Queenstown, New Zealand, is a must-visit destination for couples who enjoy exploring new places and taking in stunning scenery. Queenstown, which is tucked away between the Southern Alps and Lake Wakatipu, provides a wide range of heart-pounding activities, like skydiving and bungee jumping. However, the area's breathtaking beauty and beautiful sunsets provide the ideal balance between heart-pounding thrill and peaceful intimacy. It's not only about adventure.
Seychelles: A Work of Art by Nature
Seychelles would be the address of heaven if it had one. With powdery white sands and granite boulders littering the shoreline, this paradise on the Indian Ocean is home to some of the planet's most stunning beaches. Explore vivid coral reefs by diving into the clear waters, or stroll through luxuriant jungles to find secret waterfalls. The Seychelles are a tapestry of natural splendors where love and nature coexist in perfect harmony.
Tango and Untamed Wilderness in Patagonia, Argentina's Buenos Aires
In Buenos Aires, where the passionate tango dance sets the tone for your trip to Argentina, experience the beat of romance. then travel south to Patagonia, where wild nature rules supreme. Experience a world of breathtaking vistas as you explore glaciers, fjords, and snow-capped summits. Argentina is a tempting choice for a varied honeymoon experience because of the contrast between urban vitality and natural beauty.
Mystical Beauty and Tranquility in Bali, Indonesia
Bali's magical aura and calm beauty are what make it so alluring. This Indonesian island offers the ideal balance of culture, relaxation, and adventure, with everything from historic temples and terraced rice fields to picturesque beaches and bustling marketplaces. As you explore this magical island together, immerse yourselves in the mysticism of the area, engage in restorative spa services, and make memories.
South Africa's Winelands and Cape Town: Elegance and Discovery
With its fusion of elegance and adventure, Cape Town, a city distinguished by its stunning scenery and cosmopolitan charm, beckons. Explore the ancient neighbourhoods, climb Table Mountain for panoramic views, and drive along the beautiful coastline roads. Visit the adjacent Winelands to extend your experience, where rolling vineyards and top-notch wines create a romantic atmosphere.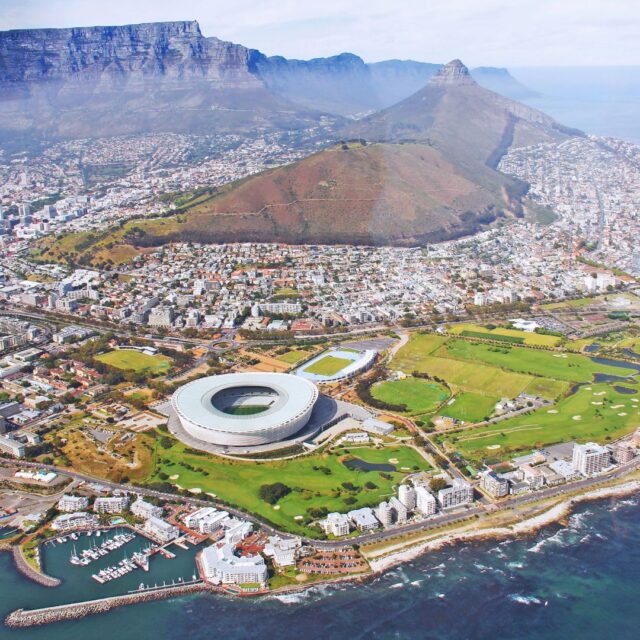 A South Pacific Paradise of Culture and Happiness is Fiji
Fiji epitomizes the South Pacific paradise, with its thriving coral reefs, beautiful rainforests, and welcoming smiles at every step. Snorkel in the vibrant underwater environment, participate in traditional ceremonies and dance, and enjoy the peace and quiet of exclusive beachside resorts to fully experience the Fijian culture. Your honeymoon's canvas will be filled with happiness and memories thanks to Fiji's blend of culture, leisure, and natural beauty.
Moroccan city of Marrakech: A Tapestry of Exoticism
Marrakech is a sensory dream for couples looking for a combination of culture, history, and exotic charm. Get lost in the medina's winding alleyways, bargain in the crowded souks, and retire to luxurious riads that make you think of tales of Arabian nights. Enjoy the sights of castles and gardens, savor the flavors of Moroccan food, and let Marrakech's colorful tapestry serve as the setting for your love story.
Canada's Lake Louise and Banff: Alpine Romance
The Canadian Rockies provide the backdrop for a unique alpine romance. Breathtaking mountain landscapes, emerald lakes, and a wide range of outdoor pursuits may be found near Lake Louise and Banff. Take a cruise on Lake Louise's serene waters, hike the park's trails, and relax in a natural hot spring. The Canadian wilderness turns becomes your playground, inviting you to fall in love amidst breathtaking vistas.
Conclusion
This is just the start of your planning process as you leave the UK for your 2024 honeymoon destinations.
Every one of them guarantees a special fusion of exploration, romance, and adventure, guaranteeing that your honeymoon turns into a treasured chapter in your love story. So follow your hearts and book your once-in-a-lifetime honeymoon trip as newlyweds be set against the backdrop of these wonderful places.
Email us – book@flightspro.co.uk
For more travel inspirations and daily travel & more family holidays, follow us on Facebook or Instagram