There is no doubt to the fact that Qatar boasts a long tradition of luxury. Its hospitality, culture and retail offerings boast of extravagance. Its architecture seamlessly melds tradition with modernity. So, if you are planning your trip anytime soon, then we suggest you make sure you contact your travel agent & have these top experiences in Qatar for a luxurious experience.
1. Doha Jewellery & Watching Exhibition
This is one of the unique experiences in Qatar that showcases dedication to craftsmanship and luxury. There are over 500 jewellery and watch brands, with 127 local and international exhibitors representing 14 countries! From the exhibition halls and beyond, visitors can marvel at a host of splendid attractions which promise a whole new level of indulgence. 
2. The National Museum of Qatar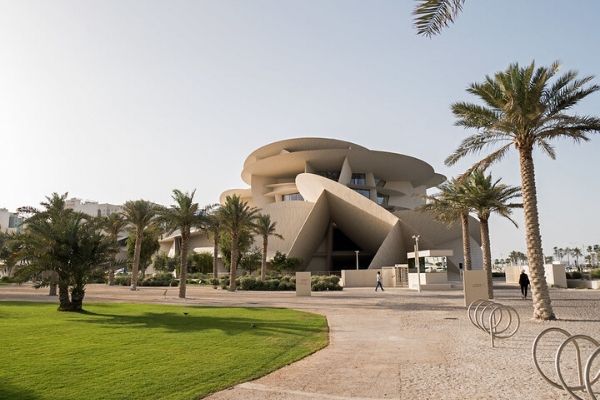 The National Museum of Qatar tops top experiences in Qatar. The NMoQ is divided into three main chapters: Beginnings, Life in Qatar, and The Modern History of Qatar, and uses immersive video screens and dioramas to tell these stories.
3.

Msheireb Downtown Doha
This is the world's smartest and most sustainable city district. It takes inspiration from Qatari heritage, with the majestic Barahat courtyard at its heart.  Surrounded by restaurants and cafes, the Barahat is the perfect place for a snack while admiring the surrounding architecture. There are also nearby cultural attractions such as the Museum of Islamic Arts, National Museum of Qatar, Souq Waqif market, Amiri Diwan (Qatar's seat of government) or Doha's picturesque waterfront promenade, known as the Corniche.
4. Qanat Quartier
This is the perfect place for those who want to enjoy a taste of Europe in Qatar's balmy winter weather. There are rows of candy-coloured buildings that house boutiques and restaurants. They run alongside a network of canals with water taxis and a replica of Venice's Rialto Bridge.
5. Shopping 
Qatar is a haven for those seeking retail therapy, with over two dozen luxury malls, many of them newly-built.  For a truly decadent experience, head over to the iconic Parisian department store Galeries Lafayette in Katara Cultural Village – itself a destination – or to the grandiose Al Hazm, which is home to high-end retail stores, cafes and restaurants, and a library.
(With Inputs from Qatar, National Tourism Council Press Release)