Cheap flights to Montego Bay & Travel Guide
4N/5D Montego Bay Itinerary Inside
Cheap Flights to Montego Bay: What could be better than a beach destination to beat the mid-year blues away? winter sun destination – Montego Bay. So, don't you want to just book some cheap flights to Montego Bay? So, you know, as the best travel agency in London we have got your go-to travel guide to Montego Bay and know how to book Cheap Flights to Montego Bay
Let us give you some brief on getting cheap flights to Montego Bay with plenty of airlines to choose from.
There are no direct flights for Montego Bay from the UK, but you can still get Cheap Flights to Montego Bay from London Heathrow and London Gatwick. No other UK airports have Direct Flights to Montego Bay.
Nearest Airport in Montego Bay: Montego Bay Sangster International (MBJ).
Cheap Flights to Montego Bay from the UK are operated by Delta Airlines, Air Canada, British Airways, American Airlines, Virgin Atlantic and Caribbean Airlines. Flight from London to Montego Bay may last up to 26 hours 30 minutes but on the return, you can find direct flights to London from Montego Bay that are around 13 hours and above. There is always an option of opting Delta, among the likes of British Airways, American Airlines, Lufthansa, Virgin Atlantic & few others.
We aim to provide cheap flights to Montego Bay all year round but flights prices fluctuate for year round. Expect to pay more for School holidays, Easter & Christmas or December time hence booking well in advance for these months is strongly advised.
We would still suggest you to give our Montego Bay Travel Experts a call to book cheap flight tickets and Jamaica Holiday Packages. We offer Flights to Montego Bay with Delta Airlines starting from £599.00 Per Person Including all Taxes for Economy Class.
Also, FlightsPro book special travel packages for you too. So, if you thinking of doing Kingston-Montego Bay tour package then, it would cost less than you could ever imagine. We will create the itinerary for you. Talk to our travel experts and give us your dates and budget.
Why travel to Montego Bay
Montego Bay is UK's favorite and top winter sun destination and why not! Visit Montego Bay for it is for you can get to do some duty free shopping, explore cruise line terminal, and the sheltered Doctor's Cave beach with clear turquoise waters to enjoy the winter sun – Montego Bay tour has it all.
Visit The Hip Strip that has midrange hotels, souvenir shops, hustlers and smoky jerk restaurants that add to the Jamaican rhythm of life.
Best time to travel to Montego Bay
November to December – This is the best time to enjoy winter sun and where the average temperature ranges between 75 and 85 degrees Fahrenheit. For the best value vacation, try to book tickets in advance because this is the peak season in Montego Bay. 
January to March – For our music enthusiasts, this is the best time to visit Montego Bay for the whole Jamaica will be celebrating Jazz Blues Festival and Bob Marley Week. This is the time when the hurricanes are over its spring time and almost everywhere it's pleasant. Also, the best time to visit Montego Bay for honeymoon
July to October & April to June – If you are little on the adventure side and looking to travel to Montego Bay on a shoestring budget, this is the best time because prices of hotels are very low particularly during this time of the year. It is the best time to score Cheap Flights to Montego Bay
4N/5D in Montego Bay Itinerary
(For a detailed Montego Bay itinerary and know more, call our agents today or drop us a message. We will call you back. Log on to www.flightspro.co.uk )
Day 1
Welcome to Montego Bay. Relax this day.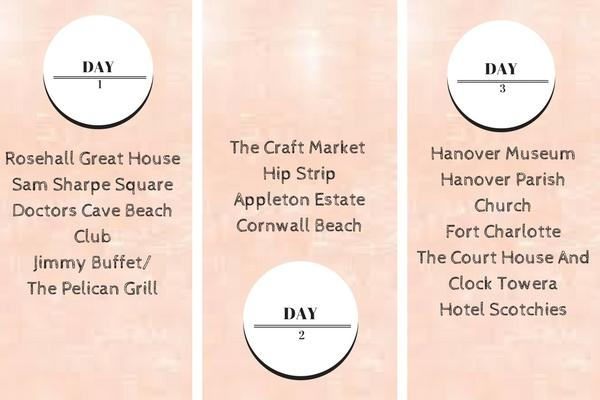 Day 5
Depart to the Uk for you are definitely coming back for another holiday.
For detailed Montego Bay itinerary, call our Montego Bay travel experts today. Just tell us your dates and budget, we will send you a personalized itinerary depending on your likes. 
Best all inclusive hotels resorts in Montego Bay
Nothing can beat an all inclusive resort deal if you are going for a holiday anywhere in the world. If you are wondering where to stay in Montego Bay, Jamaica then, this time, we have got our all-inclusive resorts in one place. For we know that this place is bustling with large golf courses, beautiful resorts and pepped-up night clubs. You can choose between them or get in touch with our Montego Bay Hotel experts.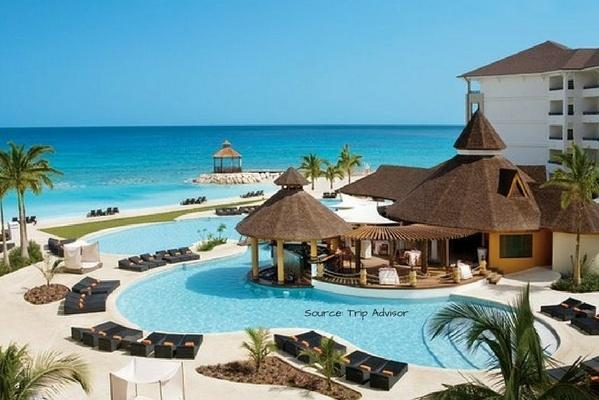 Secrets Wild Orchid Montego Bay: For adults-only, this is one of the best luxurious resorts to stay in Montego Bay.

 

It has everything – eight restaurants, five bars, a theater, a water sports a spa, dive center, a shopping center, and a casino. 
Half Moon Montego Bay – This resort is jaw dropping 400 acre property that offer 230 rooms with views of the 2 miles of beach in the front. You will be booking this beach front hotel right now if you looked at how beautiful it looks in pictures. You should just check out their website. We will give you the best rates.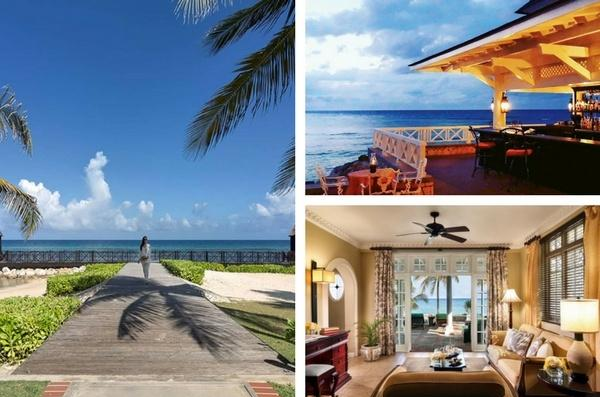 Also, Hotel Riu Palace, Royalton White Sands Resort, Secret St. James are also in our list of best resorts to stay in Montego Bay.
Montego Bay Restaurant Guide – Where/What to eat in Montego Bay
Jamaican food never gets boring! And, Montego Bay serves delectable and authentic Jamaican and world cuisine to its tourists. So if we were asked where/ what to eat in Montego Bay, we have our few favourites. Let's list them down for you –
The Pelican Grill, serving delicacies for 50 year now. Located on Hip Strip, the restaurant is a landmark and known for its Jamaican classics like stewed oxtail and bammy.
The Houseboat Grill for the fantastic views of the bay and sunset. It is located right in Marine Park Fish Sanctuary and serves the best fresh seafood.
The Pork Pit for their mastery of Jerk Pork. 
The Sugar Mill Restaurant for it is one of the most luxurious and romantic dining restaurant with a Caribbean kitchen. Make sure you get the reservations done.
Pier One – For if you want to dine and dance because there is always something happening at Pier One.
Getting Around Montego Bay – Local Transport
Jamaicans drive crazy and it is true. Even though they drive on the left side of the road, you definitely not really are going to like most of the road conditions. Plus, you might, rather you should not be driving after dark. Getting around in Montego Bay using local transport is not really a great idea. So, we will not advise you to hire a car in Montego Bay and drive around. Atleast, know these things beforehand if you think to hire a car in Montego Bay –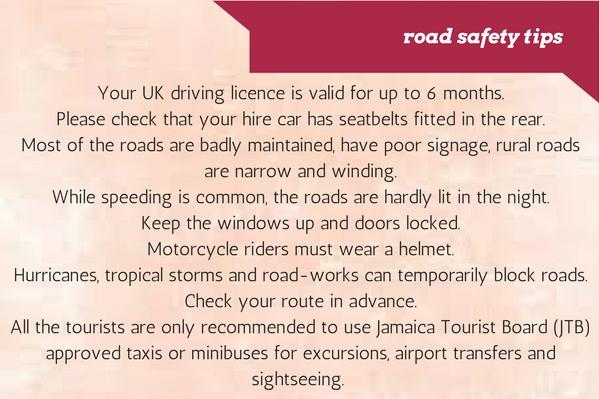 Estimated Budget for the week-long trip to Montego Bay,

 

Jamaica from the UK
For a discerning budget traveler, you can expect daily budget of 200 pounds excluding your flight tickets and leisure shopping.  While for the people who like to spend lavishly, Montego Bay can be explored quite easily at 500 pounds plus per day. Please note that it is excluding your flight tickets that can be easily booked with FlightsPro Montego Bay Travel Experts.
For any more queries, cheap Montego Bay flight tickets and cheap Montego Bay holiday packages, contact our Montego Bay travel experts.