UK Snowy Weather Worsens – Airports Cancels 60 flights
Attention. An amber warning has been issued after the Beast from the East brought heavy snowfall overnight in the UK and Ireland. It has led to flight cancellations with 68 flights cancelled in total and the numbers are expected to rise.
British Airways cancelled 48 flights, including 28 out of Heathrow and 11 out of London City. According to recent reports, out travel experts have informed that the airline has also cancelled three flights from Dublin, two from Edinburgh and Glasgow and one flight each at Gatwick and Manchester.
Flights from Heathrow Airport that have been cancelled include the UK, Europe as well as New York and Los Angeles.
Among the other airlines, Eurowings and Lufthansa have also cancelled flights from Heathrow. Etihad and City Jet have cancelled a further four flights at London City.
Further reports state that Gatwick, Manchester, Edinburgh, Glasgow and Birmingham have further cancellations.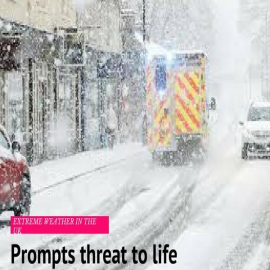 According to a statement released by British Airways spokesperson, it states that "We are refunding or rebooking any affected customers onto alternative flights so they can continue their journeys as soon as possible."
"Customers due to travel on short-haul flights to or from Heathrow and Gatwick up to Friday 2 March can also choose to travel on alternative dates even if their flight is still scheduled to operate," he added
FlightsPro.co.uk also advices our customers to get in touch with our travel experts for the latest information about their flights and rebooking options.
We advise passengers to check their flight status before going to the airport."
Please click below link for an updated flight information from Heathrow Airport:
https://www.heathrow.com/departures
It is important to note that unfortunately, for other airlines, if your flight is cancelled or delayed by severe weather conditions like ice, snow or fog, you are not entitled to your money back. However if other airlines were operating the same flight on the same day without cancellations then you can put this in writing to the airline.
Anyhow it is important that you get clarification on the same. Call FlightsPro.co.uk flight experts now.
Until then, Stay Safe!