Cheap Switzerland holiday packages
The fastest one-stop flight between London and Zurich takes close to 3 hours. Great! All the more reasons to plan a quick weekend getaway. There are plenty of things to do in Switzerland. 
The best time already here. July/August being the summer high season and September is perfect for outdoor activities. And, it is all under your budget. And there are are hoards of cheap things to do in Switzerland too.
You can plan your weekend getaway. So listing out our Top 5 things to do in Switzerland. Here are the our all time favourite things to do in Switzerland
1. Six days ski tour
This is the world most famous ski tour across glaciers and frozen mountain passes, from Mont Blanc in France to the Swiss Matterhorn.
2. Winter Seilpark
It is a winter forest adventure of wooden bridges, tarzan swings and zip lines, 8 courses of varying difficulty and heights providing an exciting day out for adrenaline seekers. Outdoor Interlaken is an adventure sports company which is famous for these activities.
3. Snowboarding
Perfect sun. For the ones who have never done this before, experience snowboarding lessons at a quiet mountain resort of Axalp, set high above the lake of Brienz. This is exclusively for the first time snowboarders.
4. Night Sledding with Fondue Dinner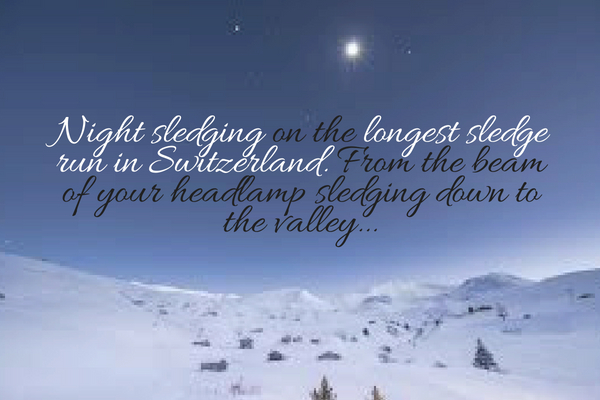 Travel from Interlaken high into the Swiss Alps taking in the starlit winter panorama and then zip down the 1 hour long sled run. Along the way wind through the woods , alpine meadows and majestic frozen waterfalls. At the finishing point, relish the traditional Swiss cheese Fondue dinner.
5. Snowshoe Trekking
This is a perfect alternative for people who don't want to ski, or who want to escape the crowded slopes and instead enjoy the beauty of nature. One of the the top things to do in Switzerland. Hike through the snowy forests and remote mountain villages and experience Switzerland, wearing special shoes on your feet.
Enjoyed reading?
Call our travel experts today or you can even chat. We have Switzerland holidays package and a long list of holidays to Switzerland 2018 that you can choose from. If you are the one planning Switzerland holidays or looking for Switzerland family holiday package, call us 0800 048 8880.
We will send you a customisable trip itinerary and make sure you get you weekend travel fix.