Top things to do in Wales
For our voracious adventures and explorers, here is a list of 16 adventurous top things to do in Wales in addition to the usual activities such as surfing, coasteering and mountain biking.
Part of Special 'In & Around the UK' Series
flightspro.co.uk, as the best travel agency in London, have the best rates for cheapest flight tickets plus group flight bookings to anywhere in the world from the UK. We are your trusted travel partner and offer the best flight deals, holiday packages, group bookings, and much more. So, here are some top things to do in Wales – 
Exploring Wales UK
1. Learn Welsh
Welsh is a Celtic language, and one of the oldest languages in Europe, spoken by an estimated 560,000 people in Wales. Learn some Cymraeg at Nant Gwrtheyrn (www.nantgwrtheyrn.org), a heritage centre on North Wales' beautiful Llˆyn Peninsula. Gwych! (Excellent!) This is one of the top things to do in Wales. 
 2. Visit a castle
There are more than 600 castles in Wales: more per square mile than anywhere else in the world. For fairy tale turrets, head north of Cardiff to 19th-century Castell Coch(http://cadw.gov.wales/daysout/castellcoch).
Historic Harlech Castle(http://cadw.gov.wales/daysout/harlechcastle) in Cardigan Bay, Mid Wales, saw the longest siege in British history from 1461-1468, while in North Wales, visit opulent neo-Norman Penrhyn Castle (www.nationaltrust.org.uk/penrhyn-castle) and see a one-tonne slate bed that was made for Queen Victoria. Visiting castles is also one of the top things to do in Wales. 
3. Trampoline in a slate mine
At Bounce Below (www.bouncebelow.net), you can unleash your inner child on giant trampolines, walkways, slides and tunnels made of netting in a 176-year old disused cavern. Intrigued? There's only one way to satisfy your curiosity.
4. Experiment with seaweed
Laverbread, made from seaweed found clinging to rocks, is a crucial component of 'the full Welsh breakfast', along with bacon and cockles. Try the Pembrokeshire Beach Food Company's 'Welshman's Caviar', a dried version they serve in burgers at beachside shack, Café Môr in south-west Wales (www.beachfood.co.uk/cafemor.php). For something stronger, sip Dà Mhìle seaweed gin (www.damhile.co.uk), available at stockists throughout Wales.
5. Be dazzled by beauty
The UK's first designated Area of Outstanding Natural Beauty (AONB) was the Gower Peninsula in south-west Wales, which marks 60 years as an AONB in 2016. Visit Rhossili Beach, which came third in TripAdvisor's Top Ten Beaches in the World in 2013 and continues to scoop awards. And, when the tide's out, walk to Worm's Head to spot seals and seabirds aplenty. www.visitwales.com/explore/west-wales/swansea-mumbles-gower/explore-award-winning-gower
6. Make an appointment with the Doctor
The Doctor Who Experience (www.doctorwho.tv/events/doctor-who-experience) at Cardiff Bay, a stone's throw from BBC studios where the series is filmed, takes visitors on a hair-raising interactive journey through 50 years of adventures in space and time, virtually accompanied by none other than Peter Capaldi as the Time Lord. You can also book to see the genuine TARDIS used in filming.
7. Walk this Wales
The first country to offer a dedicated footpath around its coastline, the Wales Coast Path (www.walescoastpath.gov.uk) is 870 miles (1,400 km) of varied and beautiful landscape. Add Offa's Dyke (www.nationaltrail.co.uk/offas-dyke-path), a path along the Welsh-English border, and you circumnavigate the entire country. Or just dip in wherever you please: the Pembrokeshire Coast Path in south-west Wales is particularly picturesque, or you can spot dolphins from the Ceredigion sections in Mid Wales.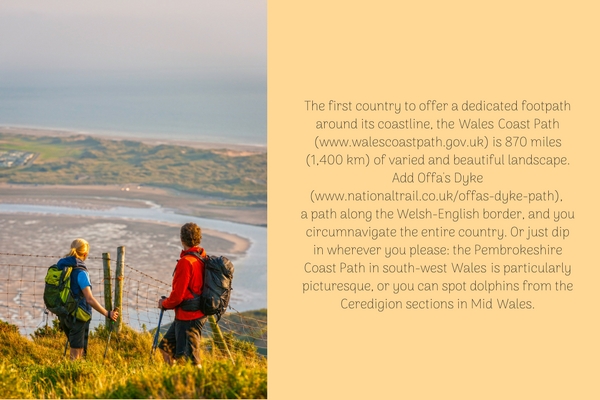 8. Pray for rain
Then be in the right place to enjoy it. Waterfall Country in the Brecon Beacons (www.breconbeacons.org/waterfalls-centre-pontneddfechan is especially fun following a downpour. Don't miss Sgwd Henrhyd, which featured in The Dark Knight Rises as the entrance to the Batcave; walk behind a curtain of water and hear the roar as it thunders down.
9. Don't sleep; birdwatch
Just off the coast of Pembrokeshire, west Wales, Skomer Island is unlike anywhere on earth. Stay there (www.welshwildlife.org/skomer-skokholm/skomer) in July and hear the incredible night-time symphony of thousands of Manx shearwater birds returning to the island after hunting. 
10. Catch some waves inland
The very first of its kind, Surf Snowdonia (www.surfsnowdonia.co.uk) is an inland lagoon, set in the picture-perfect Conwy Valley in North Wales. Add a two-metre wave peeling over the surface for more than 150 metres and you have a surfers' dream! Enjoy the thrill of the surf whether you're a beginner or a hardened wave-junkie; open from spring 2016.
11. Listen to Welshmen
Wales started the trend of singing an anthem before a sporting match – doing so first in 1905 when Hen Wlad Fy Nhadau (Land of My Fathers) was sung at rugby games. The Welsh male voice choir tradition holds strong and there are concerts all over the country throughout the year. Stay at Llangoed Hall (www.llangoedhall.co.uk), Mid Wales, over Christmas and be treated to carols by the local Male Voice Choir.
12. Race a horse
In 1980, Britain's smallest town, Llanwrtyd Wells in Mid Wales, decided to stage its first Man vs. Horse contest. Now well known for its regular staging of wacky events and the biennial World Alternative Games (www.worldalternativegames.co.uk), visit in 2016 to take part in Wife Carrying, Bog Snorkelling, Stiletto Racing and more!
13. Cwtch in a cupboard
Cwtch is one of Wales' favourite words, roughly equivalent to a cuddle (i.e. 'give us a cwtch'). It also means a cupboard or cubbyhole. Which is why it's doubly fun that you can 'cwtch in a cwtch' at Wonderfully Wild's glamourous lodges (www.wonderfullywild.co.uk) in gorgeous Anglesey, north Wales. Sleeping up to six across three bedrooms, the lodges all feature a cosy cupboard in which a double bed is neatly installed!
14. Go to the best book, food, music and… Elvis festival
Wales really likes to celebrate, be it writers and great literature at the Hay Festival, Mid Wales, (www.hayfestival.com) all things edible at the Abergavenny Food Festival, Mid Wales, (www.abergavennyfoodfestival.com) or music and dancing in fantastical Portmeirion, north Wales, at Festival No. 6 (http://festivalnumber6.com). But an event to clear your calendar for has to be the Elvis Festival (www.elvies.co.uk) in Porthcawl, south Wales, an annual celebration of The King – and the biggest of its kind in the world.
15. Tick off 200 listed buildings
Conwy in north Wales is one of the best preserved medieval fortified towns in the whole of Britain, with more than 200 listed buildings that date from the 14th to the 18th centuries including the splendid Conwy Castle. It's also home to Britain's smallest house, which measures just 10 ft. x 6 ft. (3.05 m x 1.83 m)!
16. Pronounce this
Llanfairpwllgwyngyllgogerychwyrndrobwllllantysiliogogogoch on Anglesey, north Wales, boasts the longest place name in Europe and the second longest in the world. It means 'Saint Mary's Church in the hollow of the white hazel near a rapid whirlpool and the Church of St. Tysilio of the red cave', but most people stick to Llanfairpwll. The longer form is an early example of a publicity stunt – it was invented in the 1860s and has been drawing in visitors ever since.