Experience Rajasthan with Ragasthan – Best Music Festival in India
Truly a multi-faceted 3-days International festival for music, art, and culture. Literally, the Best Music Festival in India. To create a platform that showcases great new talent, an engagement with art, culture and adventure – not just adventure of sports, but the great adventure of being on the road, sleeping under the stars, feeling the desert chill and warming up with hot chai, meeting people from different places and walks of life and listening to music you love or better yet, will fall in love with.
Remember, FlightsPro.co.uk, as the best online travel agent in London can send you a cheap Rajasthan holiday package or if you are the one who wish to just reach the destination and all do-it-yourself, we have got the best flight deals for you. From cheap flight tickets to Rajasthan, cheap business tickets India, to top airlines to India, we have almost everything. Steal the deal. Experience the best music festival in India.
Plus: We have the list. Ask our experts. We will be your travel guide. 
The best music festival in India has 3 music stages – Morio (which means Peacock in the local language) is grand, theatrical. It showcases Rock, Pop, Hip-Hop, World Music and more. Birakha ('rain' in the local language) is the more personal stage. It gives closer access to performers. 
The second stage is called Ammara, 'shining star' in the local dialect. It is the only way to stay warm at night is to find yourself dancing the night away where DJ's and live acts spin some of the grooviest dance tunes. With over 40 performances – and no overlapping stages you get a chance to catch each act live at the best music festival in India
An integral part of Ragasthan, is camp life. This is where late night bonfires, open air movie screenings, artists and festival goers spontaneously jamming together are a common sight.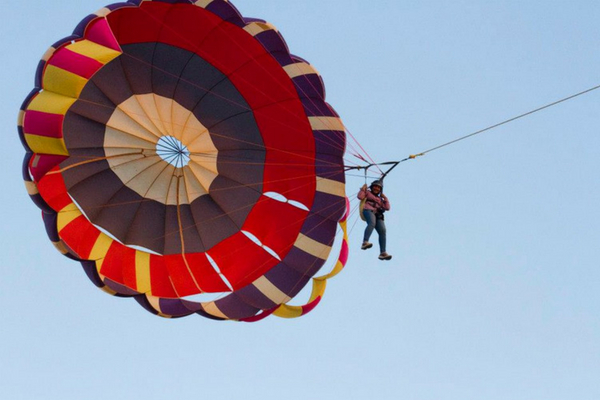 Other attractions: The hot air balloon rides, rolling down sand dunes, art installations all come together for a magical holistic festival experience. Other experiences include including a 40 foot see-saw, workshops and off-course star gazing at a spectacular night sky.
As an effort to leave the space pristine, Ragasthan provides free water and chai to everybody at the festival. Festival goers are given thermos flasks to reduce plastic and wastage.  
Touted as the Burning Man of the East, Ragasthan is a feat of extraordinary.
What: Ragasthan Music Festival
Where: Thar Desert, Jaisalmer
Also, do check out our festival and events guide for Toronto & California US here.