Where you should travel in 2018, according to your zodiac sign
Winters are here and are you one of those who are confused deciding upon the destination that you are travelling to. Or you are indecisive because the internet is loaded with travel deals and destination type that you just cannot decide on one. Then, what we suggest you to is to go by your zodiac sign. It is simple.
Every sign is different and has peculiar personality traits that should be able to identify the perfect destination for you and fulfill your travel goals in 2018. Here are the tourist destinations that you should be visiting in 2018 according to your zodiac sign –
Aries (March 21-April 19)
Aries, in 2018 are destined to travel and known worldwide for their extraordinary speed. They don't fret travelling solo and got a knack of being lively and valiant. So, for this sign, we have picked up New Zealand.
Why travel to New Zealand?
This is one destination that has the reputation of being calm and action-packed at the same time – all in all that can entice an Aries. It is always epic for the mammoth national parks that it is surrounded with, from world-class adventure sports that include – surfing, skiing, great walks, to rich Maori Culture, and gastronomical delights that boast of coffee, edgy craft beer cool-climate wines. New Zealand is the go-to destination. And, we have got some amazing New Zealand travel deals for you.
Taurus (April 20-May 20)
For the people born under this sign are way too organized. From booking tickets to accommodation, everything is pre-determined for when they want to travel. They will feel safe holidaying in a recognizable environment. So, Spain it is then. And, we have got some amazing Spain Flight Deals too.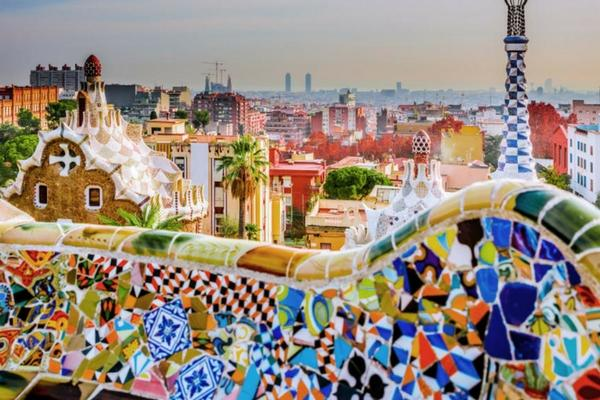 Why travel to Spain?
For Spain will never let you feel home sick, dear Taurus. Travelling to Spain means that you will be transported to a passionate land that believes in living the good life. For those travelling there for the first time, you will have architectural marvels to explore, villages etched in time and beauty, and who could forget that Spanish people live for food and wine. So, we are sure that you will be in for a delight. Not to mention again that we have got the cheapest direct flight tickets to Spain.
Gemini (May 21-June 20)
They are the most sociable being and love to travel considerably a lot. They are inquisitive, humorous social bundle and would love to investigate new places of interest and value. They are great company and often travel with their close friends, relatives or parents. For them, we choose Singapore.
Why travel to Singapore?
For our social bees, Gemini – Singapore is the perfect destination for your travel plans. Did you know that Singapore is the melting pot of culture. For your inquisitive mind, the city has some of the best green skyscrapers, walking trails, wildlife, Queen of shopping malls and food that varies from heap hawker fare to Michelin-starred fine dining. And, why not! It is Asia's hottest destinations. Want to book your tickets now?
Cancer (June 21-July 22)
Did you know that people born under this sign have a strong fascination with water? And, they are not gutsy and particularly very accommodating. They make a great companion for people looking forward to some emotional comfort. We say, travel to Italy in 2018.
Why travel to Italy?
Italy needs no introduction and if you, Cancer, are already a traveller, you would know what we are talking about. Italy is home to the world's greatest works of art, architecture and gastronomy. It is home to the highest number of UNESCO World Heritage Sites in the world – a cultural conundrum per say. Italy, not to forget is also home to some of the most spectacular landscapes – the north's icy Alps, glacial lakes, south's fiery craters and turquoise grottoes. Travel to Italy and be inspired like none other.
Leo (July 23-August 22)
They are big-hearted and big-spenders. Leos love to travel in style and occasionally take off from their day-to-day routine. Remember they don't mind going adventurous once in a while and also, backed up by an extravagant pampering session. Travel to Dubai, Leos.
Why travel to Dubai?
This is a city of enigma and profound futuristic vision with a desert splendor. For the extravagant Leos, you have got high buildings, palm-shaped islands, flying taxis, hyperloop trains, annual shopping festivals, flashy dance temples, sleek rooftop terraces and sizzling beach clubs and concerts under the stars. Dubai breaks every stereotype of the Middle East and makes way for an ideal vacation. We have got some incredible Dubai Flight Deals in 2018.
Virgo (August 23-September 22)
Our Virgos would only travel to rest and unwind of their daily routine. They like to take up something valuable with them on their vacation like cooking, painting, dancing and so on. Otherwise they will always be wondering about the time and cash that they are spending at the back of their mind. For you, Virgo, we would suggest Cambodia.
Why travel to Cambodia?
Libra (September 23-October 22)
This sign is nice and loose. And, they love to make most of their travel trips. For them it is everything about scholarly, impartial and strategic. They tend to be outdoorsy, love going to short treks but things cannot go physically demanding. We recommend you travel to Australia for little bit of everything – style, extravagance, short and outdoor.
Why travel to Australia?
Melbourne is Australia's sporting and cultural capital. And, we are here to tell you why and why Melbourne has to be in your travel bucket list in 2018 according to your zodiac. It is a long known fact that the insides of Melbourne are the most European for the leafy eastern section of Collins St that was dubbed the 'Paris end' in the 1950s. There is also a bit of New York in the mix as well – which goes to the city's well-ordered grid art-deco high-rises. It is always said that Melbourne is best experienced as a local. The city has certain coolness about its bars, cafes, restaurants, festivals and people that transcends the borders.
Scorpio (October 23-November 21)
A Scorpio loves meeting new people and travelling to new places. For people born under this sign, love to choose an off-beat destination and love to drive around. They are goal-oriented and simply a voyager. They love to explore and live groundbreaking encounters. You travel to Egypt, my friend.
Why travel to Egypt?
For Egyptians, all they care about is timeless stories. You will be welcomed by the mighty Nile, the stupendous and magnificent mountains, vast stretches of desert and lush delta. People here love to tell tales. And, if you want to explore Egypt with a Scorpio, we would suggest you to take the Nile cruise, which is the perfect place to admire and explore all the marvels that this city has to offer. We have got some cheap flight tickets too.
Sagittarius (November 22-December 21)
For them it is difficult to be in one place for a long time. They just don't travel for the sake of it, but want to discover more. They are more of explorers than just travellers. They are constantly curious and enthusiastic. For you guys, we have got the perfect destination to travel in 2018. Go to Africa – Madagascar.
Why go to Madagascar?
Madagascar, an island off the shore of Africa, has an exceptional blend of attractions for the individuals who look past occupied capital urban communities for get-away. From the lavish rainforests to the white shorelines and brilliant reeves, Madagascar houses a great many creature animal types you won't discover anyplace else on the planet.
Capricorn (December 22-January 19)
They concentrate on quality over quantity. They love to travel to places that the other individuals might not even want to or dare to. They make a great travel companion for they embark upon astonishing excursions, aspiring destinations and open air escapes with class and understated luxury. Travel to Barbados.
Why travel to Barbados?
For this destination will provide everything that a Capricorm is looking for in a vacation. Barbados is an island country in the Caribbean region of North America. We know the fact that Barbados is well famed for its fantastic beaches. From fine sand, stupendous turquoise bays to being a UNESCO World Heritage and dotted with gardens, Barbados has it all. On land, caverns, jungle-clad gullies, and beautiful botanical gardens showcase the island's natural treasures. Book Barbados flight tickets now.
Aquarius (January 20 to February 18)
For Aquarians are natural Humanitarian and intellectuals. For them, vacation works with a cause. They want to not know anyone when they travel. They like to disconnect from the outside world. A place that definitely meets an Aquarian's expanse of imagination and otherworldliness is Laos.
Why travel to Laos?
Travel to Laos for it is landlocked and it is Southeast Asia's most captivating destinations. Laos maintains a slow, rather old-fashioned charm. The people here are incredibly laidback and friendly that will be one of the highlights of your trip. Mekong River serves as the lifeline of the country. Stretching from the forest-clad mountains of the north to the islands of the far south, there's enough here to keep you occupied for weeks, and still feel as though you'd barely scratched the surface.
Pisces (February 19 to March 20)
Pisces travel to escape. The sign is all dreamy and likes to explore different cultures and day dream in nature. So, make sure you leaving enough room for day-dreaming when travelling with a person born under this sign. For you my dreamy little friend, Hawaii would be the ideal vacation for you.
Why travel to Palawan?
There is no denying to the fact that Palawan has the most surreal waters around it. With mesmerizing seascapes, and terrestrial and aquatic wildlife, the island is a long sliver stretching 650km all the way to Borneo. The island is yet to be discovered by tourists from all over the world. Palawan has got the most amazing diving, swimming and snorkeling beaches that makes it a hidden gem in the world.
For if you want to go to any of these destinations, or even got a new one on mind – do let us know. We are the leading travel agency in London that has got some of the most incredible and cheap flight deals. Call our travel experts today.