20+ Events & Festivals to Attend in Toronto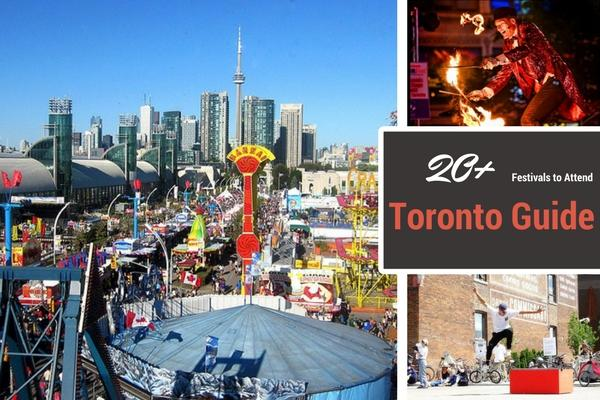 Toronto is the centre of inspiration this summer and all year-round where entertainment, the arts, dining and shopping thrive. Adventures of a lifetime await you in this intimate metropolis, resulting in some of the most extraordinary experiences you can find. Our diverse neighborhoods, inspiring entertainment, thrilling sports and attractions, and world-renowned cuisine ensure Toronto will provide memories that last a lifetime.
At FlightsPro, we always recommend our flyers to book cheapest direct flights to Toronto. And, when you book with FlightsPro, we do not compromise on the quality even if you are getting cheapest flights to Toronto. We do complimentary online check-in, take your meal requests & even assign the seats of our choice.
So, let's take a look on the 20+ festivals and events that you can be a part of in this trip to Toronto in Canada.
Outdoor Festivals/Markets
The Waterfront Artisan Market – This one is an outdoor market that takes place at The Waterfront Market Association and new destination for visitors and a premium weekend outing for people across the city bringing together a carefully curated mix of more than 50 artisans, crafters, chefs and bakers. Artisan vendors include jewellers, sunglass makers, photography, home and décor, and clothing. There are over 20 cook-on-site food vendors over the course of the market including Caplansky's Deli, La Fiesta, Loaded Pierogi, Come and Get it, Jamie Kennedy's Kitchen, and many more.
Mississauga Waterfront Festival is recognized as Mississauga's Signature Family and Friends event. They have achieved a Top 100 Festivals in Ontario ranking for ten years and received praise for consistently providing new and fresh performers and attractions. The Mississauga Waterfront Festival takes place over a three-day weekend with live outdoor concerts, family activities, food and entertainment.
Pride Month – Canada witnessed its first Pride in June 2016 and since then Pride Month began with its inaugural city proclamation and the raising of the Rainbow flag at Toronto City Hall.
The Redpath Waterfront Festival is an annual summer event that provides on-land and on-water programming for people of all ages and interests with the goal of promoting Toronto locally and internationally as a premiere waterfront destination.
The Salsa in Toronto Festival is a free celebration of Latin culture that transforms a stretch of St. Clair Avenue West into a salsa party featuring live music, dance lessons, Latin food and family fun.
Art & Culture Fiesta
Luminato Festival is Toronto's global multi-arts festival for the wildly curious showcasing performance, art, music, theatre, dance and more. The Festival runs in the month of June with a free and ticketed program of local and international artists delivering adventurous art in adventurous places. In its first decade, Luminato has become one of the preeminent arts festivals in North America, having commissioned close to 100 new works of art, with more than 3,000 performances featuring 11,000 artists from over 40 countries.
The Toronto Caribbean Carnival is an exciting three-week cultural explosion of Caribbean music, cuisine, and revelry as well as visual and performing arts with a Caribbean Carnival Grand Parade & Carnival Island grand finale celebration.
Culinary Festivals
Taste of Toronto – Toronto's most celebrated chefs and rising stars, foodie entertainment and a boutique food and drink market, is Taste of Toronto. The event takes place over four days inside the historic walls of Fort York. It is also comprised of six half-day sessions, featuring some of the city's latest, greatest and most unique restaurants, top local and international chefs, over 50 local artisan exhibitors, and a range of interactive culinary features.
Front Street Foods is a wide-ranging culinary market that showcases some of Toronto's best chefs, restaurants, food entrepreneurs, and their delectable creations. This market takes place in the heart of the financial district at Adelaide Place on York Street.
Union Summer – It is the second outdoor food market that runs seven days a week from June to September and feature 21 different food and drink vendors, a licensed area from the team at Parts & Labour Catering, a fresh produce marketplace and live music.
Toronto's Festival of Beer is a celebration of Canada's rich brewing history, hosted by experts of the brewing craft from around the world.
Music Festivals
North by Northeast Festival (NXNE) – Toronto hosts the North by Northeast Festival (NXNE) in June, one of Canada's most anticipated summer music events. Programming also includes film, comedy, and art for industry folk and culture enthusiasts alike.
TD Toronto Jazz Festival is one of North America's premier jazz festivals, not just for music lovers but for some of the greatest jazz celebrities in the world. The hub is in the heart of the city at Nathan Phillips Square and with 1,500 musicians performing at 40 venues, downtown will be groovin', swingin' and jumpin' for ten days.
Toronto Fringe Festival features more than 155 indie shows in more than 25 venues, in every genre with local, national, and international artists. There are new plays and old favourites, experimental works and fresh hits. Dance lovers can check out dance productions, and families can look forward to FringeKids! shows.
Bud Light Digital Dreams is the largest electronic music festival in Canada. Set on the shoreline of Toronto with one of North America's most iconic skylines in the background, Bud Light Digital Dreams and the Flats at Ontario Place offer party goers a sophisticated festival experience.
Beaches International Jazz Festival's celebration of music features a dynamic musical roster, multiple stages, and an enticing line-up of gourmet food trucks.
Sports Festival
The Honda Indy Toronto takes place on the streets surrounding Exhibition Place near Lake Ontario and downtown Toronto. This is among the most respected motorsports events in North America and features a week-long festival-like atmosphere that includes the fastest racing series on the planet, celebrity athletes, live entertainment and interactive activities.
The 2016 Ontario Summer Games for athletes ages 13 to 17 from all regions of Ontario compete against their fellow provincial athletes. The Games provide athletes with development and competitive opportunities that will prepare them for national and international sports competitions.
Exhibitions
Fan Expo Canada is the largest comics, sci-fi, horror, anime, and gaming event in Canada and the 3rd largest Pop Culture event in North America.
Canadian National Exhibition offers a wide variety of colourful interactive experiences. From August 19-September 5, take in all the attractions including concerts, celebrity chef demonstrations, international performances plus comedy and animal shows. Interact with park entertainers, farm animals, colourful characters in Kids World and so much more. All the excitement culminates on Labour Day Weekend in a three-day air show.
Toronto Outdoor Art Exhibition offers a fresh-air and free alternative to conventional art shows and galleries. Approximately 500 artists participate and over 100,000 visitors attend the exhibition every year. Side-by-side, established artists, undiscovered talents and innovative students sell their work directly to the public and make lasting connections with art dealers and collectors.
Comedy Shows / Film Festivals
Toronto International BuskerFest – Expect comedy, spontaneity and a dash of the unbelievable: four days and four nights of non-stop, action-packed, fun-filled entertainment. Comedians, contortionists, musicians, magicians, fire jugglers, acrobats, aerial artists, clowns and daredevils all come together for North America's largest street performer festival, the largest epilepsy awareness event in the world.
The Toronto International Film Festival (TIFF) is the biggest and brightest public film festival. World premieres, galas, and parties comprise this illustrious event where stars, directors and industry honchos make the rounds.
Just For Laughs (JFL42) is a pass-based interactive comedy festival that runs from September till October. It features the most hilarious, riveting and relevant comedy acts you can find over a 10-day period in Toronto.
Sail-In Cinema by PortsToronto is a free, floating festival that showcases the world's first two-sided floating movie experience of its size from a barge anchored in Lake Ontario.