A Roster of Exciting Festivals for Travelers to Immerse in Southern California's Unique Culture
June marks the festival season in the gorgeous Southern California region known around the globe as "The OC."  The Orange County Visitors Association has announced a slate of summer and fall festivals throughout Orange County, California that entice travelers with thrilling sporting competitions, delectable cuisine, local arts and much more.
At FlightsPro.co.uk, we got some really cheap flight fares to California so that you don't have to miss out on any of these just because you could not find the best price.  
So, let us begin:
Culinary Festivals
Saint Paul's 39th Annual Greek Festival, June in Irvine
"A Taste of Greece" is a fun-filled festival for the entire family.  Activities include live music, folk dance troupe performances, Church tours, and Greek cooking demonstrations where guests enjoy great food, pastries, dancing and more throughout the event weekend.
Pacific Wine & Food Classic, August in Newport Beach
Accomplished winemakers, chefs, and culinary talent converge in a breathtaking setting. This festival delivers summer-inspired tastings, exquisite wines, hand-crafted cocktails and culinary entertainment on the scenic waterfront stretch of the upper Newport Bay.
Orange International Street Fair, September in Orange
Inspired by the Street Fair of 1910, the City of Orange created the Orange International Street Fair (OISF) in 1973 to celebrate its centennial. The Fair was so successful that it has become an annual tradition during Labor Day weekend. It is place where friends, families and neighbors get together to experience a wide variety of food, music and dance from various cultures and ethnicities around the world.
Newport Beach Wine & Food Festival, September -October in Newport Beach
Newport Beach Wine & Food is the most exclusive, intimate and world-class epicurean lifestyle event in one of Southern California's most beautiful locales. Guests enjoy one-of-a-kind dinners by celebrity chefs and local masters, taste bites from 40 different top restaurants with their executive chefs and sip from over 250 varieties of wines, spirits and craft brews. VIP events, celebrity chef cooking demonstrations, master sommelier tasting panels and interactive mixology courses will all be offered throughout the weekend festivities.
Oktoberfest, September -October in Huntington Beach
Old World German Village in Huntington Beach has been host of Orange County's biggest Oktoberfest party since 1977. Oktoberfest promises to be the best celebration yet, offering authentic German Food (voted "Best Bratwurst" in California), imported German Beers, authentic bands straight from Germany, and other festivities, competitions, games & more.
Sporting Events
Vans US Open, July 29-August 6 in Huntington Beach
The Vans US Open of Surfing is the world's largest surf competition and lifestyle festival. Each summer, more than half a million people cruise the sand on the south side of the Huntington Beach Pier for nine days of no-cost, fun-filled activities. The world's best surfers compete for one of the largest prize purses in the industry at this annual World Surf League qualifier. In addition to surfing, the event includes world-class skateboarding and BMX competitions, movie premieres, retail and art exhibitions, and product demos and samples from favorite action sport industry brands, including title sponsor Vans.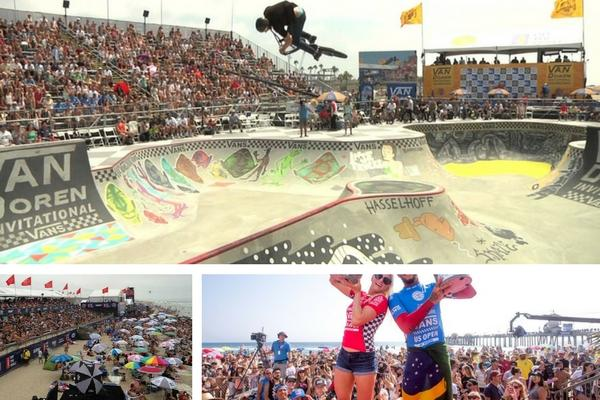 Arts and Cultural Festivals
Annual Sawdust Art Festival, June 30-Sept 3 in Laguna Beach
The famous Sawdust Festival features the fine arts and crafts of more than 200 local Laguna Beach artists. Enjoy live entertainment, art demonstrations, classes, and outdoor cafes set in the cool eucalyptus grove. Art enthusiasts have made Sawdust Festival a must-see annual event since its founding in 1966.
Annual Festival of Arts Fine Art Show, July 5-August 31 in Laguna Beach
The Festival of Arts Fine Art Show is located next to the Sawdust Festival and features works for sale by 140 Orange County artists. The large outdoor art exhibit also includes art workshops, tours, live music, special events and more for all ages.
Pageant of the Masters, July 7-August 31 in Laguna Beach
Located next to the Sawdust Festival, this iconic, 90-minute theatrical performance features famous works of art brought to life onstage. A live narrator guides the audience through the story of each piece, complete with music by a full orchestra.
Laguna Dance Festival, Sept 1-7 in Laguna Beach
Guests are invited to watch once-a-year performances from dance and ballet companies and other special events which include Art Walk Performances, Dance on Film and Master Classes during this week-long celebration of dance.
Annual Irvine Global Village Festival, September 23 in Irvine
Orange County's largest multicultural festival celebrating more than 50 cultures with music, dance, cuisine and more. Recognized as one of the best cultural festivals in the region, Global Village features more than 100 performances on five stages; a line-up of international cuisine guaranteed to transport taste buds to exotic lands; a bustling international marketplace filled with unique gifts, crafts and textiles; interactive, educational and entertaining cultural displays and demonstrations; a vibrant and interactive kids village; and a world religions area, providing guests with an opportunity to explore, discuss and expand their spiritual knowledge through interaction with established faith-based organizations from the Irvine area and beyond.
61st Annual Silverado Days, October 20-22 in Buena Park
Silverado Days draws more than 60,000 people over a three-day period to Peak Park in Buena Park. The free festival is sponsored by the Buena Park Noon Lions Club and raises thousands of dollars for local charities every year.  Each year there are more than 15 food booths, 90 arts and crafts booths and 30 carnival rides and games to share with your family and friends. Featured contests include a Car Show, a World Amateur Arm Wrestling Championship, a Amateur Horseshoe Contest, a Pie-Eating Contest, a Hog Calling, a Baby Contest, a Men's Leg Contest, a Dog Show, a Chili Cook-off and much, much more.
Cheap Flight Tickets to California
Orange County, California is an easily accessible destination for global travelers. Los Angeles International Airport (LAX) is just 35 miles north of The OC, and offers more than 900 non-stop daily flights from 59 cities in 30 countries. Upon arrival at LAX, it's just a 45-minute drive to The OC down the beautiful Pacific Coast Highway.
FlightsPro Recommends
We highly recommend you to take a cheap direct flight to Los Angeles (LAX). You may choose British Airways, Norwegian, Finnair, Delta Airlines or American Airlines that are quite popular on this route and our travel experts also highly recommend to our customers.
A car is the most convenient and flexible way to explore Southern California, where train and bus service can be limited. Orange County Airport offers eight on-site rental car companies and 14 more off-site with pick-ups and drop-offs at the terminal; rental cars are also widely available throughout The OC and at LAX. Those who don't wish to drive can utilize Smart Phone Apps, such as Uber and Lyft, to conveniently summon a driver to any place, any time of day. City trolleys are a great transportation choice for sightseeing, especially during the peak summer season. 
FlightsPro has great offers to book your cheap flight tickets to California.
Call toll free line for best offers on your travel dates for cheap flights to California on 0800 048 8880