Best Vacation-worthy Florida's Cruise Ports
While there's plenty of fun to be had at sea, and now that you have already known Top romantic getaway ideas in Florida, vacation opportunities also abound in Top Cruise Destinations in Florida. This is a blog dedicated to Sunshine State's cruise port cities. We all know about Florida but only a few know about Best Vacation-worthy Florida's Cruise Ports. 
This time, when you are in Florida, explore the other side – Top Cruise Destinations in Florida. It is time we have got the Best Vacation-worthy Florida's Cruise Ports worth a vacation including one day-trip itinerary for each of the city-
Port Canaveral
Just 40 minutes east of the Orlando International Airport is Port Canaveral, the world's 3rd busiest cruise port in multi-day embarkations. We are sure that you know that some of the  most well known cruise lines are located here – Disney, Carnival, Royal Caribbean and Norwegian. Before stepping on board, explore some of the area's famous local attractions Port Canaveral as well.
Start the day at The Exploration Tower, an architectural landmark which serves as an observation deck for the entire port and beyond. Each of the tower's 7 stories offers a unique edu-tainment experience. Grab breakfast in the café on level one. At level 5, try your hand as captain of your own ship using state-of-the-art simulation technology. Finish up at the 7th floor with a panoramic view of the famous Kennedy Space Center.
There is a reason why it is in the Top Cruise Destinations in Florida
For lunch, you can head to Rock the Guac for Mexican cuisine. Trip Advisor gives this beachy eatery 4.5 out of 5 stars. Just down the street is the famous Ron Jon Surf Shop, which has had a presence in Cocoa Beach since 1963. Here, you can stock up on all the water-related items you'll need for the cruise.
A visit to the area would be incomplete without a day spent at the Kennedy Space Center Visitor Complex. See the past, present and future of America's space program. Come nose to nose with the actual ATLANTIS space shuttle that flew in space 33 times. You'll experience the tense moments of the Apollo 11 moon landing at the Apollo/Saturn V Centre. Touch a moon rock.  You can meet a real space traveler at the Astronaut Encounter. Or, we have something better – have lunch with an astronaut and ask that question you've always wanted an answer to.
Port Miami
Home to 18 cruise brands berthing 36 ships, Port Miami is known as the "Cruise Capital of the World."  You can never ignore this when you talk about Top Cruise Destinations in Florida. The city is an ideal place to launch voyages to a variety of destinations, including the Bahamas, the Caribbean, Mexico and beyond, offering cruise vacations for every style and budget — from family fun to luxury cruising.
Begin exploring this Florida city by getting to know its history, art and heritage. Take a walking tour of the Art Deco District and South Beach. Residing in this neighbourhood are some of Miami's oldest and iconic structures. From glamorous hotels, historic sites and pop-culture to current hot spots and local favorites, the streets are always buzzing. Enjoy celebrity-status treatment at the famous Fontainebleau hotel, where stars like Frank Sinatra, Elvis Presley and Woody Allen used to play. Families can also enjoy a delicious breakfast at the News Café, known for serving the likes of Gianni Versace.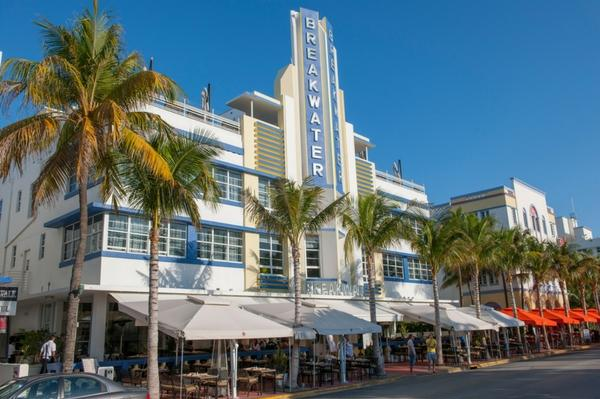 Those with a love of modern art will want to stop by the Perez Art Museum Miami. Did you know that the structure is designed to mimic the mangroves? They designed the museum exterior with spindly columns, that seem to descend straight down into the Biscayne Bay.
For a peek of some real Florida mangroves, head to Everglades National Park. Just one hour from the hustle and bustle of South Beach, you'll find the remote and natural beauty of one of the most diverse ecosystems in the USA. Explore the mangroves from the comfort of an airboat ride.
Port Tampa Bay
Handling nearly 900,000 passengers every year, Port Tampa Bay is Florida's largest port. Known as a melting pot of cultures, Tampa Bay offers some of the best rated restaurants in the whole of the USA. Foodies interested in local experiences must plan a stopover to explore some of Tampa's gastronomic gems.
Keep the vacation kilos at bay by bike or Segway. With stations throughout downtown, Tampa Bay's bike-share system lets anyone with a credit card and a smartphone register and rent a bike in a matter of minutes. The latest Riverwalk corridor fronts the Hillsborough River and Garrison Channel and connects the heart of cultural life in downtown Tampa Bay with superb city landmarks and parks, shopping venues and hotels, and abundant water activities–including eBoats, water bikes, and paddleboards.
Take a water taxi and head to Ulele ("You-Lay-Lee") for lunch, which serves meals inspired by foods used by Florida's original natives. Housed in the city's restored former pump house, it has its own brewery. Outdoor dining options allow guests to enjoy the sunset and evening breezes.
Florida's historic streetcars provide an excellent connection to Ybor City. One highlight of the tour is The Columbia Restaurant. This is the oldest restaurant in Florida and the largest Spanish restaurant in the world.
Call our Florida travel experts to know more about Top Cruise Destinations in Florida. 
Flightspro.co.uk offers pre-packaged & customised Florida tours, along with fixed – departure, escorted group tours, to any destination in the world. Our services include Flight & hotel bookings, Sightseeing & transfers and Car rentals. As the best travel agency in London, FlightsPro guarantees the best rates, up-to-date information and prompt & personalised service.