Travel to Ras Al Khaimah – For the World's Longest Zipline
Are you an adrenaline junkie? Or the one who seeks thrills? Then, there is very exciting news for you because this is going to sweep you off your feet and jump in excitement.
We are sure that this is going to take a lot of guts and some nerve to attach yourself to a zip wire that is record-breaking 2.83 kilometers and whizzing in the air at 100 miles per hour down the UAE's highest mountain.
Travel to Ras Al Khaimah in the UAE for if you want to explore this side of adventure.
Let us look at some facts about the World's longest Zipline in Ras Al Khaimah before you book yourself on this adventure of a lifetime –
Where: This zip line is set at Jebel Jais mountain in Ras Al Khaimah.
What can you expect: When you embark on this adventure-of-a-lifetime, it will allow particpants to fly face-down, in superhero position. It allows you to go at speed of up to 150 kilometers per hour (93 mph). To make it more exciting and enjoyable, there are two lines, side-by-side, allowing people to fly with friends and family.
Eligibility: It is open to all ages, as long as the riders meet minimum weight of 45 kilograms and maximum weight of 150 kilograms, along with a minimum height of 120 centimeters. Ain't that bad, eh?
Certified: The zipline has already been certified by Guinness Book of World Records.
Also, you should know that the previous Guiness world record for longest zip line was The Monster zip wire in Puerto Rico, which is 2.5 kilometers long.
Now you must be thinking Where Ras Al Khaimah is ?
Long story cut short. Its 1 Hour 20 Minutes north of Dubai and approx. 100 KM's from Dubai Airport / City.
FlightsPro.co.uk recommends travel to Ras Al Khaimah. Even though it is not one of the most popular tourist destinations yet, but it is definitely worth a trip.
And, why not! Dubai is its closest neighbor. Combine a great adrenaline day out with your Dubai Holiday.
We have some great Dubai holiday deals combining Ras Al Khaimah Zipline, land arrangements or even hotel deals for both Dubai & Ras Al Khaimah.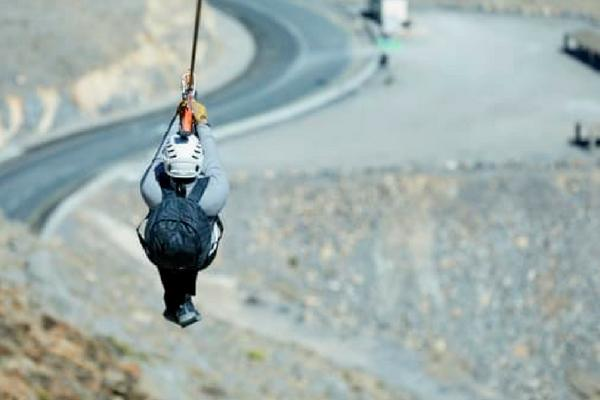 To add to our adventure lovers' excitement, the tourism department is also planning on a new ice rink and hiking and mountain biking routes. Last, but not the least, there will soon be a new viewing deck 1,300 meters up Jebel Jais mountain. The area will showcase the mountain's spectacular views — which stretch to the Arabian Sea.
We, at FlightsPro.co.uk, we recommend London to Dubai – Ras Al khaimah flights with British Airways, Emirates, Qantas, amongst the other airlines we have on-board.
For if you are looking for an adventure holiday, then head to Ras Al Khaimah for the world record breaking zip line adventure of a lifetime. For booking cheap affordable holiday to Ras Al Khaimah, contact our UAE travel experts because they will not only book cheap flight tickets for you but combine your holiday with destinations and experiences that you might not have ever expected.
FlightsPro.co.uk believes in making beautiful travel memories. We book flight tickets plus curate special travel experiences for you.