Direct Flights to Dubai from London Stansted with Emirates
There is so much to discover in Dubai that every new route, new flight and new airport catering to the demands of people wanting to go to Dubai is just pure bliss and when you have Direct Flights to Dubai from London Stansted with Emirates its all the way more easier logistically & financially.
The Emirates has recently announced to launch a new daily direct flights route from London Stansted (STN) to Dubai (DXB) from June 8 and this makes Emirates the first Middle Eastern airline to operate out of north-east London airport.
The daily route will be operated by the airline's new three-class Boeing 777-300ER offering customer's six seats in first class, 42 in business and 306 in economy.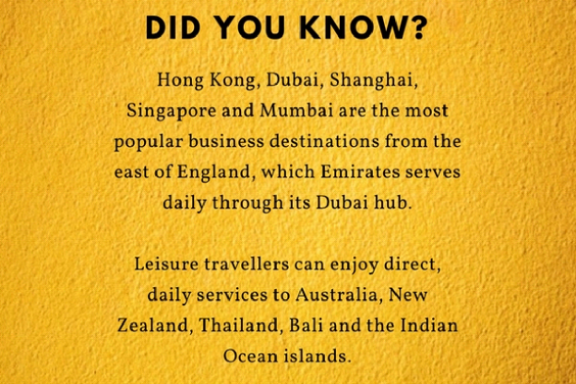 London Stansted to Dubai Flights Details :
EK34 will depart London Stansted at 21:10 and arrive in Dubai at 07:05 the following day.
Dubai Flight to London Stansted Details :
EK33 will depart Dubai at 09:30, and will arrive in London Stansted at 14:10.
With our experience we can surely tell this route will be very popular very soon and do see this route to outgrow the demand very quickly. We recon Emirates might be increasing their foot print from London Stansted very soon.
Its surely going to be a hit route especially for Eastern England & amongst its counties of Essex, Suffolk, Norfolk, Cambridgeshire, Bedfordshire, Northamptonshire.
While EK34 departing London Stansted at 21:10 and arriving in Dubai at 07:05 will directly connect Dubai but it will further more connect India, Australia, Thailand with a very good connecting or short layover times.
We expect flight prices will be cheaper or atleast at par with London Gatwick taking a benefit of lower airport taxes (in comparison to London Heathrow). Leading flight tickets for Direct Flights to Dubai from London Stansted will be from £380 Inc all Taxes.
For cheap direct flights to Dubai from London Stansted, do pick up the phone and get in touch with our flight tickets experts.
Our toll free line is 0800 048 8880 or click the link for a call back.