Guide for Cheap Direct Flights to Mauritius.
GUIDE FOR CHEAP DIRECT FLIGHT DEALS TO MAURITIUS
One of the best option for Cheap Direct Flights to Mauritius is usually the direct one but direct flights are from London Heathrow only, there are no other UK airports which have Direct Flights to Mauritius.
From London airports to Port Louis Sir Seewoosagur Ramgoolam International Airport, Mauritius is about 6026.4 miles which is equivalent to 9698.6 kilometers.
However you can still fly from other regional airports such as Aberdeen, Bristol, Edinburgh, Manchester, Newcastle via London Heathrow, Charles De Gaul – Paris or even Dubai international airport too.
Cheapest Direct Flights to Mauritius from UK are only operated by Air Mauritius & British Airways. Direct Flight from London to Mauritius may last up to 12 hours 30 minutes but quickest ones can also take just under 12 Hours too.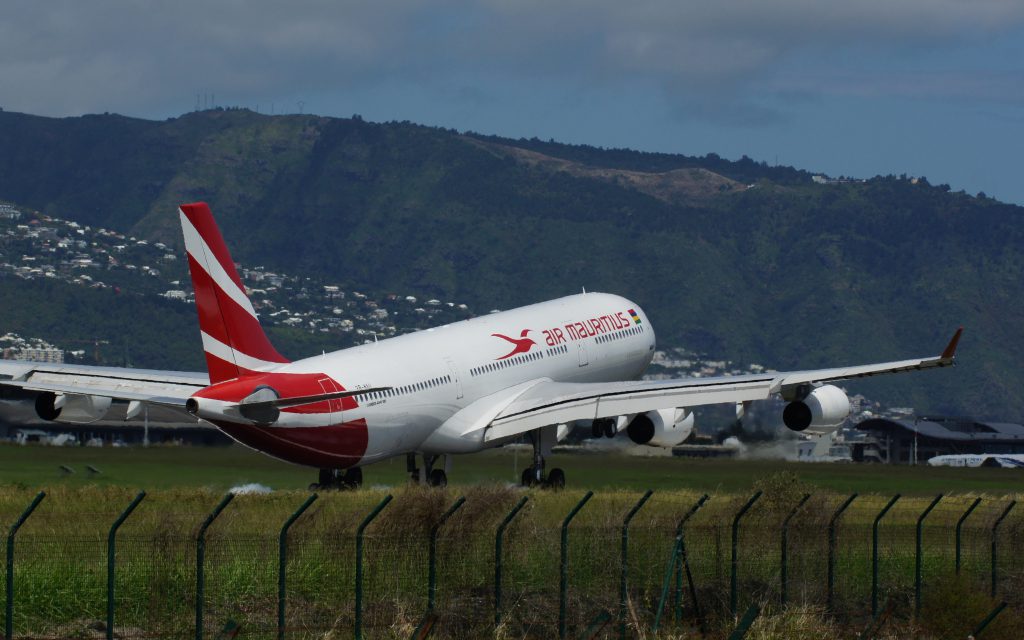 Currently Air Mauritius do not operate everyday of the week as per current stats they are operating every Monday, Tuesday, Friday & Sunday of each week.
We offer Flights to Mauritius with Air Maurtius starting from £625.00 Per Person Including all Taxes for Economy Class.
Direct Flights to Mauritius with Air Mauritius leave at 1600 Hours on Fridays reaching 0755 Hours & 2000 Hours on other days which reaches 1155 Hours mid day Mauritius local time.
Below are the Air Mauritius flight numbers and its respective times or departure & arrival timings in Mauritius.
MK  53 HEATHROW – MAURITIUS  1600  0755 +1 (Next Day)
MK  57 HEATHROW – MAURITIUS  2000  1155 +1 (Next Day)
As Mauritian community has grown in UK the insatiable demand for cheap flights to Mauritius has also grown with it.
There is always an option of opting Air Mauritius or from the likes of Air France, Emirates, Etihad Airlines, Swiss Airlines, Lufthansa Air India, KLM, Turkish Airlines & few others.
Flights to Mauritius with Emirates Airlines is also preferred by many families.
They have very good connections via Dubai connecting to Mauritius with average flying time of 13 Hours and 30 Minutes with an additional stopover time in Dubai.
You can opt to fly from London Heathrow, London Gatwick, Manchester, Birmingham, Edinburgh, Glasgow, Aberdeen & Newcastle to Mauritius via Dubai.
We offer Flights to Mauritius with Emirates starting from £590.00 Per Person Including all Taxes for Economy class.
You can fly from London Heathrow or London Gatwick. They are some great connections & timings one can choose from… we always aim to give you the best suited connections.
One of the flight connections from London Heathrow are as follows :
EK   6   HEATHROW – DUBAI  2200  0845 (Next Morning)
EK 703 DUBAI – MAURITIUS  1015  1655
Above flights give you good time to relax after taking a flight for 6 hours and 45 minutes from London Heathrow to Mauritius and also next flight is quick enough to reach Mauritius early in the evening.
Currently Emirates also using A380 (newest & biggest aircraft at present) on the above timings for both the legs of the journey which makes the whole journey little bit more comfortable.
Latest trend with families travelling to Mauritius is also to take a stopover for couple of nights on the way in to Mauritius or on the way back from Mauritius.
Most of the Mauritian community travelling once every year to see the family & friends now they like to combine a bit of break or time off in Dubai for its great charm, good whether & no VISA requirements for UK passport holders.
A 3 to 5 night break in Dubai can also be arranged with us free of cost on the way back from Mauritius. Only extras come are your local costs, such as airport transfers, hotels & sightseeing.
Private airport transfers for 2 come around £20 – £30 each way in to Dubai city. Dubai has so many options for the hotels & with our hotel deals we can get you good 3 star hotel from £60 per night & a good 4 Star hotels starts typically from £90 per night.
Choices are plenty to choose from ! Please ask for more options or if you willing to extend your stay in Dubai.
We only deal with quality hotels who are renowned for their service & their standards. Below are just two examples from many we can offer.

Hyatt Place Al Riga, Deira fr £120 each night
Avari Dubai, Deira fr £80 each night both with breakfast on double occupancy basis.
FlightsPro Recommends :
We aim to provide the cheapest flights to Mauritius all year round but flights prices fluctuate for year round. Expect to pay more for School holidays, Easter & Christmas or December time hence booking well in advance for these months is strongly advised.
We will be more than happy to assist & promise to pass on the cost benefits if you book your Flights to Mauritius with us.
We wish you to enjoy your flight & your time in this beautiful island called Maurtius !
Call toll free line for best offers on your travel dates for flights To Mauritius on : 0208 396 7200 or click https://www.flightspro.co.uk/cheap-flights-to-mauritius.aspx