Why Experience in Disneyland California
Spring/Summer 2018 Family Travels
Spring and summer at the Disneyland Resort is always more thrilling. There is always a possibility of going new family vacation fun and spectacular entertainment. We have got some pretty amazing cheap flights to California and cheap California Holiday packages. So, we have gathered Top Experiences in Disneyland California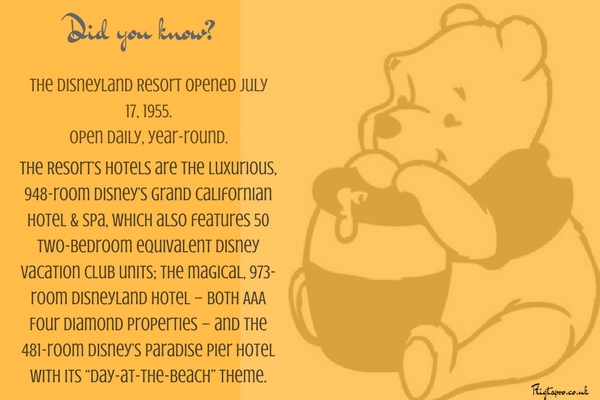 Magic awaits guests of all ages in spring and summer, including these 16 special Experiences in Disneyland California.
What to do at Disney California Adventure Park
1. Attend Frozen Musicals: Heard of the movie Frozen? Top Experiences in Disneyland California includes "Frozen" musical premieres. Immersing audiences in the emotional journey of Anna and Elsa with all of the excitement of live theater. The entertaining musical adaptation include elaborate costumes and sets, stunning special effects, show-stopping production numbers and some unique theatrical surprises. Indeed, musical premiers are  one of the most important Top Experiences in Disneyland California
2. Luigi's Rollickin' Roadsters at Casa Della Tires: The fun-filled Luigi's Rollickin' Roadsters attraction at Casa Della Tires in Cars Land, rolls with fun as park guests join in the fun by hopping aboard miniature Italian roadsters, in the style of late 1950s micro cars. Did you know that the cars perform the traditional dances of their village? They move to upbeat music. Luigi is seen singing in a precision-choreographed dance across a trackless "dance floor."
3. Meet "Captain America: Civil War" : Just ahead of the opening of "Captain America: Civil War," Captain America is making appearances in Hollywood Land at Disney California Adventure.
What to do at Disneyland Park
Exciting Star Wars experiences in Disneyland Park
4. Star Wars Launch Bay invites guests to visit a Star Wars-themed cantina, discover authentic replicas of film props, and encounter Star Wars characters such as Chewbacca, from the light side, and Kylo Ren from the dark side.
5. The Star Wars-themed transformation of Space Mountain into Hyperspace Mountain thrusts guests into an X-wing Starfigher battle as they race through the darkness. The experience is enhanced by a new soundtrack, inspired by the Star Wars films' musical themes and re-orchestrated to match every move in the attraction.
6. Star Tours – The Adventures Continue:  You can encounter a new adventure and characters from "Star Wars: The Force Awakens".
7. The popular interactive show Jedi Training: Trials of the Temple has been reimagined with Darth Vader and the Seventh Sister Inquisitor from the popular Disney XD series Star Wars Rebels. Why not then it is one of the top Experiences in Disneyland California
8. The sparkling "Paint the Night" parade builds on the tradition of breathtaking nighttime parades in Disneyland Park that began with the "Main Street Electrical Parade." Illuminated almost entirely by LED lights, "Paint the Night" is a state-of-the art, vibrant wonder that immerses guests in the magical, luminescent worlds of many Disney and Disney●Pixar characters, including Ariel, the Little Mermaid; Woody and Buzz Lightyear from "Toy Story"'; Lightning McQueen from "Cars," Disney Princesses and Mickey Mouse and his pals. We love all the kinds of Experiences in Disneyland California
9. Watch the fireworks: One of the most popular Top Disneyland California Experiences is the The "Disneyland Forever" fireworks spectacular entertains guests from the tips of their toes to the sky high above, surrounding the audience with music, dazzling visual projections and other special effects that bring the pyrotechnics to life in surprising new ways. Guests may enjoy the projections from multiple locations, including Main Street, U.S.A., and Small World mall.
10. At Disney California Adventure, "World of Color – Celebrate! The Wonderful World of Walt Disney" is a fun-filled version of the popular, nighttime "World of Color" spectacular. Award-winning actor Neil Patrick Harris joins Mickey Mouse on a magical water canvas, bringing to life the remarkable story of Walt Disney and The Happiest Place on Earth with animated imagery, live-action film, fountains, lasers, special effects and a stirring musical score.
These are our Experiences in Disneyland California and we are sure that you just cannot wait to go on a family holiday. We got sone special summer/spring flight rates too.
flightspro.co.uk, as the best travel agent in London has various Disneyland California holiday packages plus cheapest direct flights from London to California. Call our travel experts today to get the best US flight rate.