Your go-to guide – Travel to Kingston Jamaica
Surprise 4Night/5Days Kingston Itinerary Inside
Cheap Flights to Kingston Jamaica from the UK
Waa Gwaan! Greetings from Kingston! Have you been looking for cheap flights to Kingston from the UK? Then, we are here to help you in the best possible way and what could be better than providing you all the information required traveling to Bob Marley's home – Kingston in one place. This could your go-to guide to plan a trip to Kingston. Did not you want to do that for a long time?
First, we would like to get into your notice that Cheap Flights to Kingston is only available from London Heathrow and London Gatwick and no other UK airports have Direct Flights to Kingston.
Nearest Airport in Kingston: Kingston Norman Manley (KIN).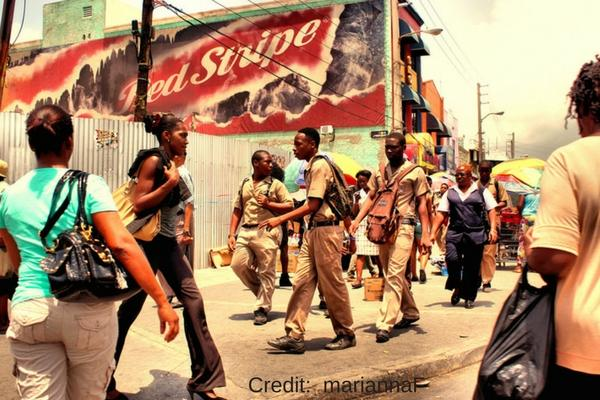 Cheapest Flights to Kingston from the UK are only operated by British Airways, American Airlines and Caribbean Airways. Flight from London to Kingston may last up to 28 hours 30 minutes but on the return, you can find cheap direct flights to London from Kingston. There is always an option of opting British Airways or from the likes of Air France, Delta, Cayman Airways, Lufthansa, Virgin Atlantic & few others.
We aim to provide the cheapest flights to Kingston all year round but flights prices fluctuate for year round. Expect to pay more for School holidays, Easter & Christmas or December time hence booking well in advance for these months is strongly advised.
We would still suggest you to give our Kingston Travel Experts a call to book cheap flight tickets and Jamaica Holiday Packages. We offer Flights to Kingston with British Airways starting from £625.00 Per Person Including all Taxes for Economy Class.
Why travel to Kingston
Kingston in Jamaica is also the best winter sun destination. Visit Kingston for it is squeezed between the Blue Mountains and the world's seventh-largest natural harbor, Kingston. Kingston is island's cultural and economic heart, and a place known for its Creativity and music. In 2015, Kingston was called "Creative City of Music" by UNESCO. If you are looking to explore the culture and history of Jamaica, then Kingston is a must visit. The city is divided in two halves – Downtown which is home to historic buildings, the courts, banks, street markets and one of the Caribbean's greatest art museums; and Uptown that holds the city's best hotels and restaurants and Emancipation park.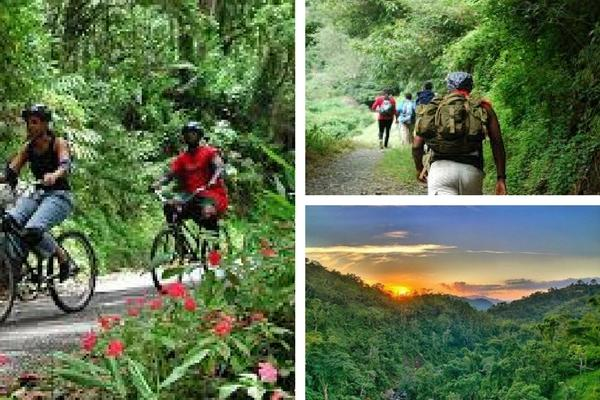 Best time to travel to Kingston
November to December – This is the best time to enjoy winter sun and where the average temperature ranges between 75 and 85 degrees Fahrenheit. For the best value vacation, try to book tickets in advance because this is the peak season in Kingston. 
January to March – For our music enthusiasts, this is the best time to visit Kingston for the whole Jamaica will be celebrating Bob Marley Week. This is the time when the hurricanes are over its spring time and almost everywhere it's pleasant. Also, the best time to visit Kingston for honeymoon
July to October & April to June – If you are little on the adventure side and looking to travel to Kingston on a shoestring budget, this is the best time because prices of hotels are very low particularly during this time of the year.  It is the best time to explore Kingston cheap flight tickets.

4N/5D in Kingston Itinerary
(For a detailed itinerary and know more, call our agents today or drop us a message. We will call you back. Log on to www.flightspro.co.uk )
Day 1
Welcome to Kingston. Relax this day.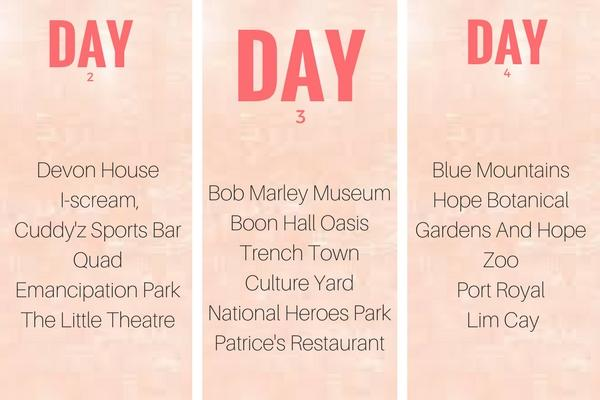 Day 5
Depart to the Uk for you are definitely coming back for another holiday.
For detailed Kingston itinerary, call our Kingston travel experts today. Just tell us your dates and budget, we will send you a personalized itinerary depending on your likes.  
Best hotels to stay in Kingston
If you are wondering where to stay in Kingston Jamaica then, the capital got quite a number of nice and comfortable hotels from which to explore this historic city. For most of the hotels cater to business travellers, but they also include excellent leisure facilities and restaurants. Here is a quick selection of some of our favorite hotels –
The Spanish Court:

This is one of

the best hotels to stay in Kingston.

While it is popular for its central location in New Kington, it is also popular amongst business travellers looking for a comfortable stay, world-class menu and poolside sky terrace.  

Liguaenea Club  – This is ideal for our sports fan who would want to enjoy access to one of the best tennis courts in Kingston on Knutsford Boulevard. The hotel is equipped with an English style pub and restaurant by the mango tree. Our James Bond, Sean Connery fans would be thrilled to know that Dr No was shot here.
Jamaica Pegasus –

This is one of the very

best known hotels in Kingston

. Best known for its large swimming pool, nicely cultivated gardens, restaurant that serves the most delectable world cuisine and Jamaican food and also, the largest conference facilities in Jamaica.

Strawberry Hill:

 A little off the hook that is, situated just 30 minutes from Kingston, high in the blue mountains, this tropical gem deserves a mention. You will love it for its beautiful hillside cottages with spectacular mountain views, polished wood floors, crisp white linen and hardwood furniture and views are of the Blue Mountains. And, you cannot afford to miss the infinity pool, which is the

best infinity pool in Jamaica.
Food Lover's Guide – Where/What to eat in Kingston
Jamaican food is synonymous to jerk chicken and from every roadside restaurant to a fancy shack, you get the best version of it. Curry goat, Ackee Salt fish, Solomon Grundy are just a few to name. So if we are asked where/ what to eat in Kingston, we have our few favourites. Let's list them down for you –
Moby Dick,

a hangout place popular among lawyers and judges and known for its outstanding curried goat and conch version

Strawberry Hill Hotel

is known for its breakfast and Sunday brunches and who could forget its breathtaking landscape and view of Blue Mountains and Kingston Harbour.

Mi Hungry

for 'sun cooked' I-tal food.

Andy's  

for Jamaican favourite food –

the best authentically prepared jerk chicken and pork in Kingston
Devon House Bakery –

Lobster patty anyone? It is the best bakery in Kingston Jamaica.
Getting Around Kingston – Local Transport
Getting around in Kingston using local transport is not really a great idea. So, we will not advise you to hire a car in Kingston and drive around. Since you are here, if course, a day ride wont hamper anyone. But you got to keep or at least know these things beforehand if you are looking to hire a car in Kingston –
You can drive in Jamaica using a UK driving licence for up to 6 months.

Please check that your hire car has seatbelts fitted in the rear. Check with the hire car company before you arrive.

Road accidents and fatalities are common. Most of the roads are badly maintained, have poor signage, rural roads are narrow and winding. While speeding is common, the roads are hardly lit in the night.


Keep the windows up and doors locked.

Motorcycle riders must wear a helmet.

Hurricanes, tropical storms and road-works can temporarily block roads. Check your route in advance.

All the tourists are only recommended to use Jamaica Tourist Board (JTB) approved taxis or minibuses for excursions, airport transfers and sightseeing.
Is it safe to travel to Jamaica?
There is no denying to the fact that crime levels are high around Kingston in Jamaica. Even though it is safe enough for a holiday, it is better to know than be sorry later.  Here are a few tips on travelling to Jamaica that we have research and put together for you:
It is recommended to be cautious around West Kingston, Grant's Pen, August Town, Harbour View, Spanish Town and certain parts of Montego Bay, including Flankers, Barrett Town, Norwood, Glendevon, Rose Heights and Mount Salem.

Take care of your belongings. Be vigilant at all time especially when you are out. There have been frequent cases of robbery.

Please refrain from walking alone in isolated areas or on deserted beaches, even during the day.

Avoid taking shared public transport in the night.

Follow hotel security procedures. Use hotel safe, lock windows and doors and report suspicious activity.

Avoid all kinds of demonstrations because they have the potential to turn violent.

When you are

travelling to and from Norman Manley International Airport,

you should avoid the Mountain View Avenue route and use the alternative signposted Humming Bird route via South Camp Road instead.
Estimated Budget for the week-long trip to Kingston in Jamaica from the UK
For a discerning budget traveler, you can expect daily budget of 200 pounds excluding your flight tickets and leisure shopping.  While for the people who like to spend lavishly, Kingston can be explored quite easily at 500 pounds plus per day. Please note that it is excluding your flight tickets that can be easily booked with FlightsPro Kingston Travel Experts.
For any more queries, cheap Kingston flight tickets and cheap Kingston holiday packages, contact our Kingston travel experts.