Ultimate Orange County Restaurant Guide 2018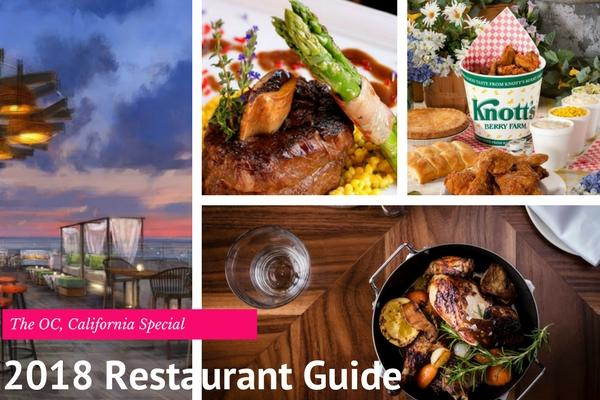 Visit Orange County, California – The Best Places to Dine in Style
There is no denying to the fact that Orange County (The OC) serves up diverse dining options to give travelers a taste of California's global influences.
Savvy travelers know that one of the best ways to experience a destination's culture is through its cuisine. In Orange County, California, visitors will discover a vast array of dining options that is as diverse as the region's multicultural population. Whether the goal is a quick seaside bite, a five-star dinner experience with a celebrity chef, or a well-crafted cocktail, "The OC" has plenty to offer.
So, whenever you are planning a culinary tour, look for cheap flight tickets to Orange County, do give us a call. No matter which time of the year you are planning to, we will make sure that you get the best flight and hotel deals.
So, we have bifurcated the list according to the style of dining –
Where to Dine in Style
Napa Rose in Anaheim – Located in the opulent Disney Grand Californian, Napa Rose is a special-occasion elegant experience elegant. The ever-changing menu focuses on innovative farm-to-table fare, inspired by Napa wine country.
The Ranch Restaurant & Saloon in Anaheim – The Ranch Restaurant features true American regional cuisine, cooking from scratch with the finest ingredients possible, every dish captures the rustic style of wine country. After dinner, head over to the saloon, to quench your thirst while you enjoy local country bands and line dancing.
Teatro Martini in Buena Park – Southern California's hottest new dinner show is an edgy, interactive experience designed just for adults. This one-of-a-kind cabaret merges an upscale 5-course meal with gut busting comedy acts, world-class musical performance, dazzling acrobatics and stunning magical acts.
Kang Ho Dong Baekjeong in Buena Park – Voted "The Absolute Best Korean Barbecue" by Grub Street, Kang Ho Dong Baekjeong serves up delicious food in a unique way. Using only the finest cuts of meat, they cook your food directly at your table over hot coals that infuse the meat with a smoky flavor, while perfectly sautéing eggs, vegetables and corn covered in melty cheese.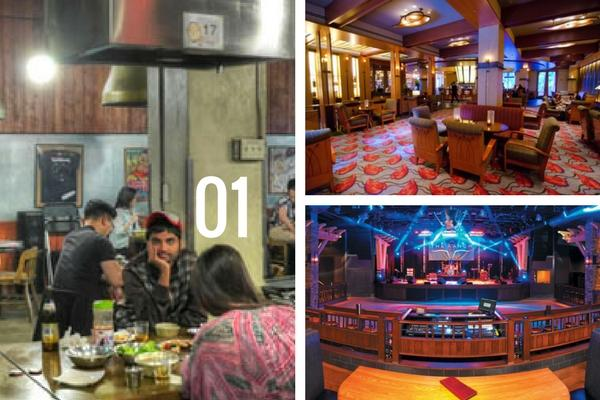 AnQi in Costa Mesa – Inside of South Coast Plaza, AnQi is an award-winning Asian fusion restaurant from the acclaimed An family. From years of tradition, AnQi serves a taste of California with an emphasis on Vietnamese cuisine paired with innovative mixology in a chic space.
VACA in Costa Mesa – Top-Chef runner-up Chef Amar Santana pays homage to authentic Spanish cuisine at his second hit restaurant, VACA. From Spanish tapas to family style plates, his culinary creativity showcases top ingredients and brings innovative crafted drinks to create a memorable culinary experience.
Bluegold in Huntington Beach – Newly opened Bluegold celebrates California's land — Chef Tin Vuong and partner Jed Sanford of Blackhouse continue their innovation in the dining world by taking farm-to-table back to its roots; back to a time where leisure met cuisine and culture was drawn from the earth and sea. Visitors can relax by the Pacific Ocean and enjoy elegant dining such as fresh oysters from the steam kettle, savory steak grilled over charcoal, or a simple glass of soothing wine below the California sun.
Watertable in Huntington Beach – Hyatt Regency Huntington Beach Resort & Spa's signature restaurant, Watertable, combines the union of rustic and refined, old and new – in both design and cuisine – to appeal to guests' evolving palates. The menu features seasonal, regional grill centric American fare, paired with a distinguished selection of vintage world-class wines, craft brews, artisanal cocktails, craft and naturally infused waters, in a unique nod to its name.
BLK Earth Sea Spirits in Huntington Beach – BLK Earth Sea Spirits features some of the finest ocean view dining that Huntington Beach can offer. Located on the iconic intersection of Main Street and Pacific Coast Highway, BLK specializes in Kobe Style Beef hand-cut steaks, chops, and seafood — delivering delicious and savory flavors in all of their dishes.
Broadway by Amar Santana in Laguna Beach – Broadway by Amar Santana serves seasonal new American small plates amid industrial New York-themed décor and an open kitchen. Chef Amar Santana, whose appearance as a finalist on Top Chef Season 13 makes it a challenge to snag a table, but a few must haves include the crispy braised pork belly, roasted beef bone marrow, the house-aged Maple Leaf Farms duck breast and the housemade chocolate cavatelli.
Studio at Montage Laguna Beach – Executive Chef Craig Strong showcases seasonal French-inspired cuisine, including A5 Wagyu (Kobe) Beef hiding off the menu, inventive dishes using the freshest produce from the onsite garden and creative libations. Enjoy dining at the Chef's Table or sit at the Tasting Station to experience the buzz of the line cooks.
Splashes Restaurant at Surf & Sand Resort in Laguna Beach – New American cuisine with on-the-ocean dining and palm-shaded patios. From grilled lamb loin to whole branzino and braised short rib, Executive Chef Ron Fougeray is passionate about making everything from scratch and sourcing the finest ingredients.
Andrea in Newport Beach – Located at The Resort at Pelican Hill, Andrea allows guests to savor the flavors of Northern Italy, serving handmade pastas made fresh daily and award-winning wine in an elegant, upscale atmosphere.
Mastro's Ocean Club in Newport Beach – The Mastro's Ocean Club is a sophisticated steakhouse known for its world-class service and acclaimed cuisine.
Where to Grab a Local Bite
Anaheim Packing House – The historic Anaheim Packing House is Sunkist's former citrus packing house, originally built in 1919, converted into a two level architectural marvel featuring a large central atrium with communal dining. Two dozen innovative micro-restaurants showcase a variety of cuisine, from flavorful international cuisine and down-home American fare to artisan coffee and handcrafted desserts.
Pour Vida Latin Flavor, Anaheim – Celebrity Chef, Jimmy Martinez recently opened up his first restaurant on Anaheim's hip Center St Promenade. Martinez's concept is focused on tacos, he hand-crafts 3 types of tortillas; one for land, sea and garden (think squid ink tortilla for sea and spinach for garden) with the freshest ingredients possible to make quality food without the fine dining price tag.
Farrell's in Buena Park – Voted "Best Ice Cream" and "Best Family Friendly Restaurant" by Nickelodeon, this turn-of-the-century restaurant is a great place to grab a bite to eat and enjoy their world-famous ice cream. Visitors can choose from an array of juicy hamburgers, delicious sandwich creations, unique salads and of course, dessert.
Mrs. Knott's in Buena Park – One of America's most popular family eateries, Mrs. Knott's Chicken Dinner Restaurant has been serving up Cordelia Knott's fried chicken, fluffy mashed potatoes, farm-fresh vegetables, homemade buttermilk biscuits, and boysenberry pies since 1934. Located outside the main gate of Knott's Berry Farm, this family dining institution actually formed the basis for the theme park itself.
Porto's Bakery in Buena Park – Voted Yelp's "#1 Restaurant in the Country" for 2016, Porto's Cuban Bakery serves up delectable pastries, savory sandwiches, specialty beverages and their famous potato balls. The family-owned business still uses many of the original recipes that they brought with them from Cuba in 1963.
Hamamori in Costa Mesa – Chef James Hamamori is behind the sushi counter most days and has a devoted clientele. Famous for his "sushi gems" and authentic Japanese cuisine, it's a hit with visitors and locals alike.
Antonello's in Costa Mesa – For more than 30 years, this Italian restaurant has been a favorite haunt of power players for lunch and dinner. Restaurateur Antonio Cagnolo's familial environment makes for a warm fine dining experience serving fresh, authentic Italian cuisine that keeps diners coming back again and again.
Royal Khyber in Costa Mesa –  The best Indian cuisine in OC hands down. Celebrating 35 years in 2017, Royal Khyber is a must visit for an authentic Indian dining experience.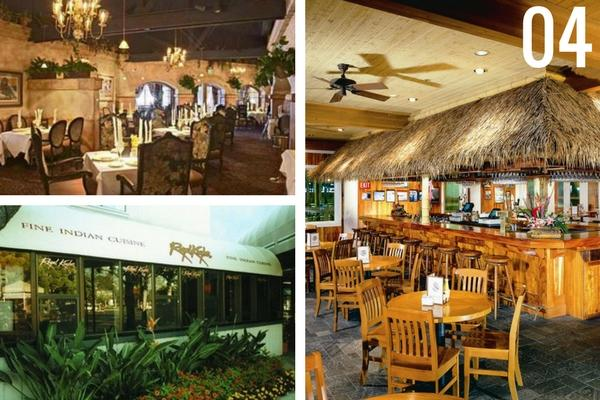 Sancho's Tacos in Huntington Beach – Experience the taste of fresh, west coast seafood with Mexican flare just steps away from the Huntington Beach Pier. Choose from a huge variety of specialty and classic tacos, burritos, quesadillas, nachos and don't forget the guacamole!
Duke's Huntington Beach in Huntington Beach – As the local Huntington Beach spot, Duke's offers memorable dining, endless ocean views and a reminder of simpler times, while paying homage to Duke Kahanamoku, the father of international surfing. Enjoy a Hawaiian beach house ambiance, the freshest seafood and prime steaks.
Sugar Shack Café in Huntington Beach – Serving traditional American favorites, such as pancakes, omelets, soups, salads, sandwiches and made-to-order hamburgers, the Sugar Shack Café is a main stay of Huntington Beach. Family owned and operated since 1967, Sugar Shack Café is known among locals as an authentic "surfer hang-out" and offers great food at affordable prices.
Bistango in Irvene offers artful New American cuisine and a Wine Spectator award-winning wine list with over 400 varieties of wine. The ambiance is further enriched each season by revolving modern art exhibits.
Eats Kitchen & Bar in Irvene – Eats Kitchen & Bar has taken the hotel restaurant concept to the next level, with vibrant splashy décor that appeals to guests and locals alike. Its circular bar is the perfect spot to try Chef Jason's culinary twist on comfort food favorites for breakfast, lunch or dinner – with craft beers, interesting wines and handcrafted signature cocktails.
Lucca Café in Irvene  – Executive Chef Cathy Pavlos, Lucca Café, has developed a collection of remarkable recipes, inspired by her grandmother's cooking and her favorite restaurants in Italy, France and Greece. The restaurant's menu features slightly modified offerings that build in the flavors of California.
Prego Ristorante in Irvene – For more than two decades, Executive Chef Ugo Allesina, born and raised in the region of Piemonte, Italy, has been serving authentic Italian fare at Prego Ristorante. The menu features pizza baked in a wood-fired oven, freshly made pastas, grilled fresh fish, spit-roasted meats and fowl, and an extensive list of wines from Italy and California.
Zov's in Irvene – One of Orange County's most celebrated female chefs, Zov Karmardian serves unique cuisine that blends contemporary with Mediterranean, Middle Eastern and Armenian influences at Zov's.
Twenty Eight in Irvene – Executive Chef Jay Lacuesta's seasonal menu consists of sustainable seafoods, local farm vegetables, and a wide selection of meats. Accompanying the foods at Twenty Eight are thoughtful signature crafted cocktails, whiskey, cognac, and our sommelier's handpicked wines.
Andrei's Conscious Cuisine & Cocktails in Irvene – Andrei's Conscious Cuisine & Cocktails named in honor of Andrei Olenicoff, embodies his best traits – a sense of adventure, a commitment to sustainability and openness to new friends, ideas and experiences. Andrei's features cultural diversity with the freshest ingredients, California cuisine, Mediterranean flavors, and sustainable foods.
Three Seventy Common Kitchen + Drink in Laguna Beach – Three Seventy Common Kitchen + Drink with locally sourced products for Executive Chef/Owner Ryan Adams' globally infused dishes like butcher steak bone marrow and bordelaise.
Mozambique Restaurant in Laguna Beach- It is an upscale eatery and lounge serving South African-inspired cuisine specializing in wood-fired steaks, peri peri, fish and seafood. Visitors can dine outdoors on the ocean panoramic rooftop, enjoy live music bands and a popular happy hour or spend their time in the speakeasy piano lounge in the Durban Room.
Little Saigon in Garden Grove – Tucked away in the city of Garden Grove is Little Saigon — an area representing one of the largest Vietnamese populations outside Vietnam. It is a place where pho noodle soup, dim sum restaurants and banh mi sandwich shops are more commonplace than fast-food restaurants.
Sessions in Newport Beach – The sandwich shop infuses the surf culture of the community with the taste of gourmet sandwiches to showcase this "West Coast Deli" just steps away from the beach.
Bamboo Bistro in Newport Beach – In the mood for Vietnamese? Head to Bamboo Bistro and discover a flavorful menu using only the freshest ingredients to create contemporary Vietnamese cuisine including a variety of spring rolls, pho and noodle dishes.
Where to Get a Great Drink
Anaheim Brewery in Anaheim – Anaheim has rolled out the red carpet for craft breweries to open up shop in town, bringing in a bevy of hops to tantalize any beer lover's palates.
Trader Sam's Enchanted Tiki Bar in Anaheim – Located just steps from Downtown Disney District in the Disneyland Hotel, Trader Sam's Enchanted Tiki Bar is a wondrous watering hole of Trader Sam, head salesman of the Amazon Jungle. If you order a tiki drink from the menu, be prepared – a storm of sensations will ensue – the room will start to storm with thunder, your servers will tiki chant, you may get wet from rain and volcanoes will erupt!
Blind Rabbit in Anaheim- The Blind Rabbit is a cozy, dark speakeasy, located at the Anaheim Packing House with a hidden entrance preparing elevated comfort food and handcrafted cocktails.
Rock & Brews in Buena Park – The brainchild of Gene Simmons and Paul Stanley of KISS, Rock and Brews offers quality American comfort food in a Rock & Roll themed environment. For beer connoisseurs, there is no better place to grab a brew with over 100 different craft beers, from local breweries, micro distilleries and international imports.
The Capital Grilled in Costa Mesa – The Capital Grille offers impeccable classics served making it a timeless bar. The "Stoli Doli" is a must order, as is a classic gin martini.
The Bungalow Huntington Beach – The Bungalow, located at Pacific City features an intimate lounge setting, private dining room, main bar space, al fresco patio, and expansive views of Huntington Beach with rustic and vintage elements. The Bungalow's refreshing menu offers signature cocktails named after some of Huntington Beach's iconic attractions and exclusive bites from culinary partner Bear Flag Fish Co.
SeaLegs Wine Bar in Huntington Beach- SeaLegs Wine Bar opened in Huntington Beach in 2012, offering an inviting experience for guests to enjoy a selection of limited production wines, hand-selected craft beers, craft cocktails and a seasonal California shared-plates menu that is tempting to the palate. The Hamptons-inspired décor with a stunning glass encased 2,000-bottle wine cellar as backdrop creates an immediate warmth and sophistication balanced by its relaxed local clientele.
Tanner's Treehouse Bar in Huntington Beach – Located at Huntington Beach's newest hotel, Pasea Hotel & Spa, Tanner's Treehouse Bar offers a chic rooftop patio bar serving specialty cocktails, handcrafted by an award-winning mixologist. With some of the best views of the Huntington Beach, it is one of the most desired spots during sunset hours.
85°C Bakery in Irvene – Specializing in coffee, cakes, and breads, 85°C Bakery, a Taiwanese chain of coffee shops, opened in Irvine in 2009 as the first U.S. store. Their most popular beverage is the "Sea Salt Coffee" – slightly sweetened iced coffee topped with creamy foam whipped with sea salt, with semi-sweet chocolate powder sprinkled over the top of foam.
YNK in Irvene – Nestled in a quiet corner of the Irvine Marriott, the intimate bar offers imbibers a dynamic and ever-changing menu not based on the seasons, but on the wonders of the world. The spirits-forward menu is made up of artisanal takes on favorite sips, while the inside of YNK reflects the destination of the cocktails being served, transforming every few months to transport imbibers to another location around the world.
Red Bar & Lounge in Irvene – Red Bar & Lounge offers a modern, contemporary design that is perfectly coupled with a personalized retro flair. The variety of seating options-including a hideaway room with gigantic TV and lounge area-is perfect for groups large and small with live music and DJs keeping the energy up all week long.
Three Seventy Common Kitchen + Drink in Laguna Beach – Three Seventy Common Kitchen + Drink offers a lively bar scene with "Brown Bag Tuesdays" and "Wino Wednesdays" every week and a drink board where you can buy your friends a drink. Their name will be placed on the bar's chalkboard and they can redeem the drink on their next visit.
Stateroom Bar at Driftwood Kitchen in Laguna Beach – The Stateroom Bar features handcrafted cocktails with an emphasis on fine bourbons and whiskeys creatively crafted into artisan libations and presented with an original twist. Our oceanfront bar setting embraces the former library of old Hollywood actor, Slim Summerville, where we serve classic libations reminiscent of our historic tenant and the outside patio offers oversized couches, fire pits for cozy nights and interesting libations.
The Rooftop Lounge in Laguna Beach – The Rooftop Lounge, at La Casa del Camino Hotel, is known for its unparalleled sunsets and signature fresh fruit mojitos. The Rooftop Lounge is also one of the best happy hours in town.
The Winery in Newport Beach – Newport Beach's hot spot, The Winery, serves contemporary Californian cuisine, wine and handcrafted cocktails in a vibrant, energetic setting.
The Village Inn in NewPort Beach – Take your evening up a notch at The Village Inn and enjoy live music while experiencing signature libations including the "Newport Martini" and "Balboa's Buzz."
FlightsPro.co.uk Recommends
Orange County, California is an easily accessible destination for global travelers. A car is the most convenient and flexible way to explore Southern California, where train and bus service can be limited. City trolleys are a great transportation choice for sightseeing, especially during the peak summer season.  The Laguna Beach Weekend Trolley is free, operating Fridays 4pm-11pm, Saturdays 11am-11pm and Sundays 11am-8pm.  The trolley comes every 20 minutes, perfect for families exploring the beach.