Top things about Maldives that are going to surprise you!
Are you the one who thought of the Maldives out of your reach – too romantic, too expensive and too dreamy? What if we tell you that it is a myth and you should be planning a trip to the Maldives soon.
How about the month of January?
"What a perfect month to be in this dreamy haven!"
Our extensive research on the Maldives will surely put a double tick on your plans. The sole purpose of this blog is to let everyone know that the Maldives is not just for honeymooners. It is a myth and we are going to debunk it.
At FlightsPro, we enable you to get cheap direct flight tickets to Maldives. British Airways, Malaysian, Sri Lankan Airways, name any and our agents will get that done for you.
As a traveller, we are sure that you are looking for something outside the postcard image of any destination. So here are a few lesser known facts for people who have not yet been to this dreamy destination.
Mix up Local and Luxury
There is a huge difference between the local and the luxury islands. While the resort islands boasts of overwater bungalows, fancy drinks, and sparkling aquamarine, the local island are surrounded with breathtaking infinite view of the horizon, colorful houses and local charm.
It is important to note that the local islands won't have alcohol, pork products and you will see that the women dress quite conservatively over there. Don't be caught-off guard because every little part of Maldives has its own charm.
It ain't just for the honeymooners
Thank goodness that you don't have to wait for your Prince Charming to come to be able to go to the Maldives. Undoubtedly, you will be surrounded by lot of newly-wed couples but also families, groups and families. We mean to say that you would not feel out of place and could alone swim in the breathtaking waters of the Maldives.
Maldives welcome budget travelers
One of the reasons people wait for so long for a trip to the Maldives is the myth that goes around it that the place is too expensive. If you are a budget traveler and can afford to live in the guesthouses, dorms and hostels that are available on rent on the local islands then, this is your perfect holiday destination. In fact, it can be done at a budget of 30-40 pounds per day. It is crazy, isn't it? Cannot find a deal? Give us a call!
You may be the lucky one
Ever heard of beaches that glow in the dark? In this trip, you might get lucky. In the Baa Atoll area, the beach comes alive with light at night giving off a starry sky look in the dark waves. It only happens during certain time of the year. And the view is spectacular.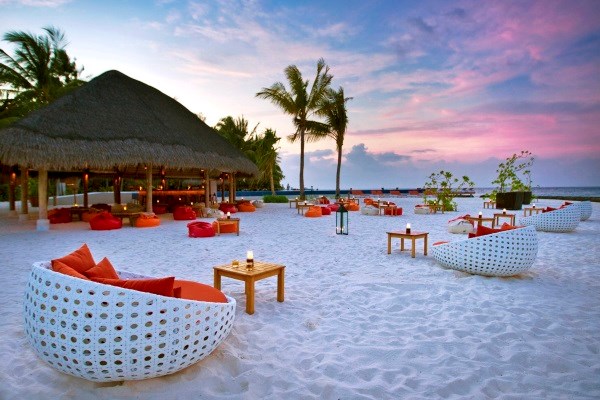 Public Displays are a big no-no.
Being one of the nations that thrive upon tourism, it is quite surprising to come across such sign boards and restrictions. Though no one is going to come after you, but it is always advised to respect any foreign country that you are visiting. Public display of affection outside the resort islands is restricted. Women are not allowed to wear bathing suits; no pork products and alcohol are allowed outside the resorts. But there is a silver lining. Everything is allowed in resort islands. Be careful when you plan a day trip to the local islands.
Remote & Private Islands
Did you know that every resort on the Maldives has its own private island? It is made up of 2000 islands – both man-made and natural. So, all your fantasies whisking off to a remote island will come true here.
World's most scenic Taxi Rank
Possibly the world's most scenic taxi rank – you will see a strip lined up with luxury yachts, sailboats and seaplanes. We book airport transfers as well. So book cheap flight tickets to Maldives plus your taxi so that you can enjoy your vacation hassle free.
Bodu Beru
We love music and we are sure everyone does. Maldives boasts of drum-based music, that validates its long connection with East Africa. Please do not miss on this part of your trip. It is transcendental.
Coral Houses
Use of corals in making houses is banned now because of conservation issues but you will still manage to see few houses made up of corals in local islands.
And, we sure that snorkeling, scuba diving, seeing giant-size marine life, underwater dining, sensational spas and dolphin spotting must be already on your list of things to do in Maldives. We are not here to discuss the usual anyway.
Maldives is a destination where you will found warm, crystal clear waters, abundant of sea life and endless stretches of picture perfect palm lined beaches. This place has constantly captivated travellers' attention and woken up their senses to the environment
In other words, it is mysterious, unusual and stunningly beautiful.
FlightsPro Recommends :
It's definitely a place where you are in nature's lap. Please note that the timing to booking this destination is very important as this island is not connected with many flight connections.
The only way getting cheap direct flight tickets to Maldives is with British Airways. And, the very next best option is with Emirates Reservation flying via Dubai. Also, we can arrange a free stopover making it a twin city holidays.
We have great offers to book your cheap flight tickets to the Maldives.
Call toll free line for best offers on your travel dates for cheap flights to Maldives on 0208 396 7200 or click https://www.flightspro.co.uk/cheap-flights-to-maldives.aspx