Things to do in Himachal: Book cheap direct flights India
Explore Himachal Pradesh – the name in itself resonate the spectacular and astounding snow-peaked mountains, river valleys and a natural playground for the seekers. There is no denying to the fact that Himachal is a hub of adventure activities – trekking, climbing, rafting, paragliding and skiing – yes, all in one place but have you ever wondered if you could just make a trip to simply observe what is around. A beautiful amalgamation of interlocking mountain chains tempts travellers from all parts of the world to explore this place. Villagers' easy-going warmth will never let you feel strange and alone. There are so many unusual things to do in Himachal.  
So, here we are talking about some of the most never-done-before things to do in Himachal. And, we would advise you to ditch your four and two wheelers and let your feet do the talking to the terrain.
Trip to Jana falls, Naggar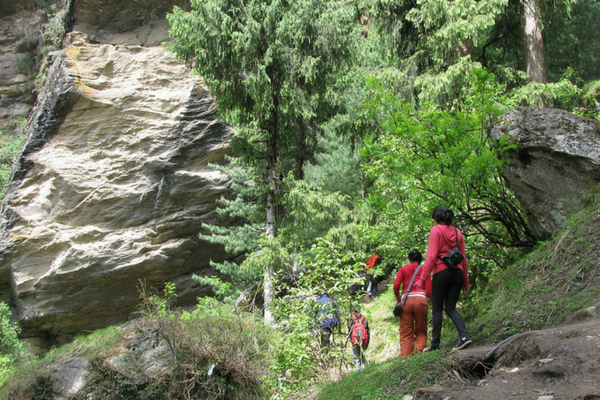 This one is a hidden gem in Naggar, which will be on your way to Manali. In my top list of things to do in Himachal, this place never fails to enchant me in new ways every time I have been here. All surrounded by deodar trees, apple orchards, clustered rocks and view of the snow- capped mountains, the fall is one of the quaintest locations for those looking for a quiet time amidst the healing sounds of falling waters.
Stay at Mount Happy, Chhaki
Along the sweet scent of apple orchards, vegetable and herbs patches, the valley is home to Chhaki Village in Naggar that offers you a chance to look at the Himachal village life closely. While you are here, do spend a night at one of the most peaceful accommodation at Mount Happy. And, one must not forget a trip to Chhaki Nala for evening sunsets.
Trekking
One of the most popular sports according to me will be walking. Since we are in the mountains, why not make the best out of this trip. So, just get your trekking shoes on, gear up to probably camp for a night under the clear blanket of stars and make sure you get a local along with you. Keep walking for happy feet. It will soothe your senses too. If you are a beginner, then we consult you to go around for short half day or day treks and get to know the mountains a bit more.
Adventure Sports
For camping, you can either go to Dalhousie, Kullu-Manali, Solan, Chail, or Dharamshala. For those looking for some mountaineering and rock climbing, head to Reo Purgyil, Jorkanden, Shilla or Rangrik Rank and the ones who want to slide down the snow-laden mountains can go to Shimla. You know there is a bit of everything for everyone.
Mountain Cycling
What better way to explore the picturesque mountains, valleys and winding roads of the state than on the bicycle. For the best mountain cycling experience head to Kangra, Una, Hamirpur or even Bilaspur.
Let this trip be charting new routes for yourself across the majestic mountains. There can never be dearth of things to do in Himachal Pradesh – only when, as a traveller, you keep yourself open to exploring the unexplored.
How to Reach
The best part about Himachal Pradesh is that is accessible by road and one of the best ways to be travelling by.
By Air: The nearest airport for you will be Bhuntar located approximately 50 kilometers away from Manali and 30 kilometers from Naggar. Domestic flights connect to Delhi and Chandigarh.
By Road: The state of Himachal Pradesh is very well connected to Delhi via Chandigarh. State as well as private-own buses run at regular intervals to and from Himachal covering 550 kilometers one way every day.
Weather and Best Time to Visit
Year-round, Himachal Pradesh offers different charms in different seasons.  While September marks the end of the monsoons, and start of the cold weather, December marks the beginning of fresh snowfall as temperature drops down below zero degree Celsius and stays till January and February.  March to June begins Things to do in Himachal.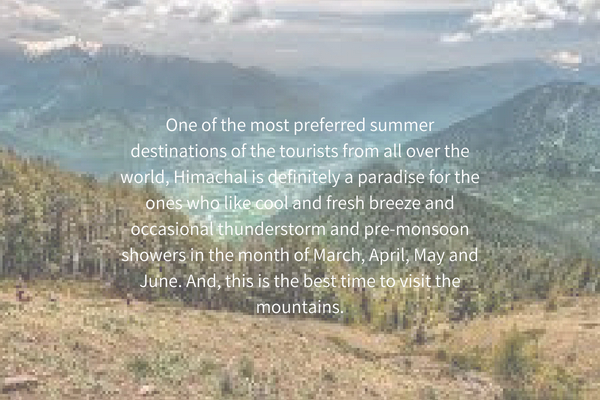 As the best travel agent in London, you just make up your mind and plan your trip. We will take care of the rest. From cheap direct flights India from London, to discounted hotel booking, to car rentals and airport transfers, we do it all for you. We will get you the best Himachal tour package. Call us at 0800 048 8880