Every year AirlineRatings.com assesses hundreds of airlines in the airline industry. They take everything in account from previous incidents, the average age of their fleets to audits from governments and the aviation industry's regulatory bodies and then they form a list of the safest and least safe airlines to fly with.
"Overall, air travel is safer than ever. Certainly, air travel is safer today than at any time in history but passengers still need to know which are the best of the best," according to Airlineratings.com editor-in-chief Geoffrey Thomas.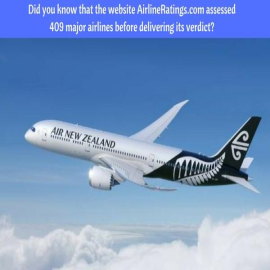 And, we, at FlightsPro.co.uk believe in the same. Our motto is to give true and best of the knowledge to our customers because they choose to book flight tickets with us. There is no denying to the fact that Qantas has been the leading airline when it comes to safety, advancements, innovation and operational excellence for quite a few years, but this year, Air New Zealand bagged the first position in world's safest airlines to fly with. And, why not! Look at the amazing creativity and advancement they are coming up with on a regular basis. British Airways, Emirates, Lufthansa and Hawaiian Airlines also made to the top of the charts.
Here is the list of top airlines that have been recognized as the world's safe airlines to fly with by Airlinesrating.com –
Air New Zealand
Alaska Airlines
All Nippon Airways
British Airways
Cathay Pacific Airways
Emirates
Etihad Airways
EVA Air
Finnair
Hawaiian Airlines
Japan Airlines
KLM
Lufthansa
Qantas
Royal Jordanian Airlines
Scandinavian Airline System
Singapore Airlines
Swiss
Virgin Atlantic
Virgin Australia
And, this is not just it. They also revealed the list of least safe airline to fly with which includes Four Nepalese airlines – Buddha Air, Nepal Airlines, Tara Air and Yeti Airlines – were awarded the lowest safety rating, along with North Korea's Air Koryo, Indonesia's Trigana Air Service and Blue Wing Airlines in Suriname.
So, next time you flying out, make sure you keep yourself up-to-date with the world's safest airlines to fly with. You never know how you going to make use of that information. Fly with the best. Book with the best – FlightsPro, London's best travel agency that caters to not only your travel requirements but create a customized itinerary for you based on your likes and budget.
Call our travel experts today.